The Mysterious Origin of Ge Ware
China Today by Song Xiaoyan,April 20, 2018

Adjust font size: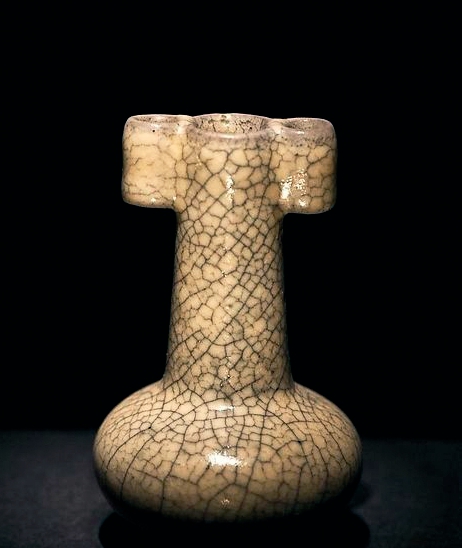 Greyish-blue glazed Ge porcelain vase with pierced handles from the Song Dynasty
Housed in The Palace Museum in Beijing, this piece resembles the shape of sacrificial vessels of the Western Zhou Dynasty (c. 1100 - c. 771 BC). The handles are closely connected with the vase's mouth, creating a balanced visual effect with its round belly at the bottom. It is covered with thin crackles, featuring an elegant and solemn style.
The golden threads and iron wires connect with each other, but in fact they form two different webs. The fine crackles on porcelain resemble wrinkles on human faces. As time passes on, the alternation of seasons make porcelain expand with heat and contract with cold. Other factors such as pressure from soil and erosive effects exerted by oxides in the air also affect the formation of the crazing pattern. The crackles on relatively new porcelain are often straight and wide, forming shapes such as quadrangles and pentagons. The crackles on old porcelain are gradually formed over a long time; therefore, they are often winding and look natural.
Such naturally formed crackles and its fine and smooth glaze make Ge porcelain adorable to both audience and collectors.