A University in Its Move to Contribute to Diversity of Civilizations – An Interview with President of Beijing Foreign Studies University Peng Long
China Today by Zhang Hui,January 10, 2018

Adjust font size:

Integrating Language Teaching with Humanities Subjects

China Today:What prompted BFSU to establish the Institute for Global History in December 2014? What are the major research results of the institute?

Peng Long:BFSU started history courses in the 1960s, covering world history, Chinese history, and the history of some other individual countries. But we had not formed a complete discipline system on history. It has been advocated for universities to improve their liberal education. I think the fundamental essence of liberal education lies in courses of literature, history, and philosophy. On top of that, we have also gradually noticed if a student aims high and wants to achieve something big in the future, his or her knowledge of history will be very important. So, based on these considerations, we decided to set up the institute.

Apart from organizing academic lectures, international conferences, and publishing periodicals and books in Chinese, English, and German, the institute is now preparing to build a database on global knowledge transfer and history of Chinese students studying abroad. It's planned to complete a database by 2020 with basic information of around 10,000 Chinese students who had previously studied abroad, thus revealing the picture of knowledge transfer during the period between the 19th and 20th century.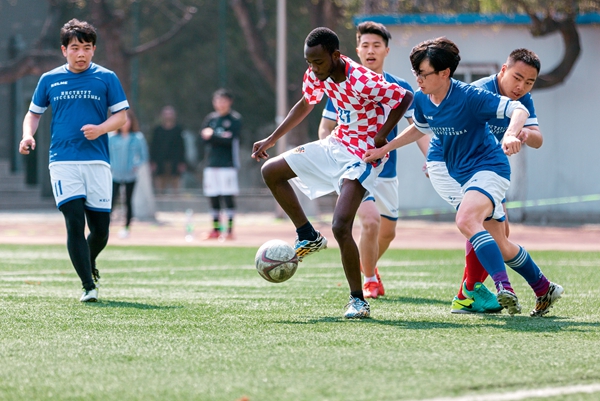 International students at the "BFSU Cup" Football League.
China Today: What has the Academy of Regional and Global Governance done since its establishment in October 2016? What kind of foreign exchange activities has the academy rolled out to promote China's new concepts, new thoughts, and new strategies on state governance and to contribute Chinese wisdom to global governance?
Peng Long:One of BFSU's distinguishing features is the combination of language teaching with regional and country specific studies. We're trying to shape a development model in which language teaching, humanities research and talent cultivation reinforce each other. Thus, upon graduation our students will not only be equipped with a high language ability but an academic capacity to carry out research on culture, history, and other aspects of a specific country. Integrating teaching, research, and think tank functions, the institute is devoted to serving China's "go global" strategy, cultivating high-caliber talents, and advancing regional and global studies. As of now, BFSU has established 41 centers for studies on individual countries.
This institute provides service to Chinese enterprises going abroad. For example, we've signed strategic cooperation agreements with nine centrally administered state-owned enterprises like China National Machinery Import and Export Corporation and China Construction Bank, and some local companies like Liugong Group. When they run into difficulties abroad, they can resort to our centers for studies on individual countries for support.
In addition, research results of the institute have been used in building foreign exchange mechanisms like those between China and Germany, China and French, and China and Russia.
China Today:Why did BFSU set up the College of International Organizations in April 2017? What type of talents does BFSU aim to cultivate via the college?
Peng Long:With its rapid rise in the international community, China needs its voice to be heard by proactive participation in global governance. However, in some major international organizations, there are not many Chinese people holding high-ranking positions, which is disproportionate with China's position in the world as a major country. So, we aim to train a group of students who will not only have a good knowledge of international rules and organizations, but be adept at foreign languages and cross-cultural communications.
In this college, students are required to master at least two foreign languages used in the UN, for example, English and French; besides, they also have to choose a major, like politics, economics, law, international communication, or history. Moreover, BFSU also makes efforts to establish essential cooperation relationships with some international organizations such as the EU and the UN, so as to provide our students opportunities to have an internship there and finally take a career path in an international organization.
China Today:With those new institutes established, what are the characteristics of BFSU's subject setting?
Peng Long:We have been highlighting our advantage in foreign language teaching, strengthening our standing in disciplines such as foreign linguistics, foreign literature, translation, regional and individual country studies, comparative civilizations, and cross-cultural communication. On top of that, BFSU also makes efforts to enhance the integration of foreign language disciplines with other subjects of humanities and social sciences, in a bid to form a sound disciplinary ecology and sharpening the university's core competitive edge.
I think a good university should be able to contribute its part to a country's development and even that of the world civilization. BFSU should make contributions to the country in this critical development stage. We seek to improve students' knowledge structure and make them acquire the quality and capability to better serve the country's development and the progress of human society. Accordingly, we have gradually expanded the scope of our subjects and disciplines; as I mentioned before, we expanded the history discipline, and also added subjects on education and arts. Of course, we do not add subjects randomly, mostly those closely associated with foreign languages. In the future, we plan to add further subjects on psychology, sociology, and anthropology.