A University in Its Move to Contribute to Diversity of Civilizations – An Interview with President of Beijing Foreign Studies University Peng Long
China Today by Zhang Hui,January 10, 2018

Adjust font size:

This year, the term "new four inventions" has created a craze in China's media world with a spate of related stories topping the headlines of countless media outlets. The term's creator is Beijing Foreign Studies University (BFSU).

BFSU's Silk Road Research Institute carried out a survey among its international students from 20 countries along the Silk Road Economic Belt and 21st Century Maritime Silk Road, asking them to name items or services in China that they most aspired to bring to their home countries. High-speed railways, mobile payments, bike sharing, and online shopping led the list.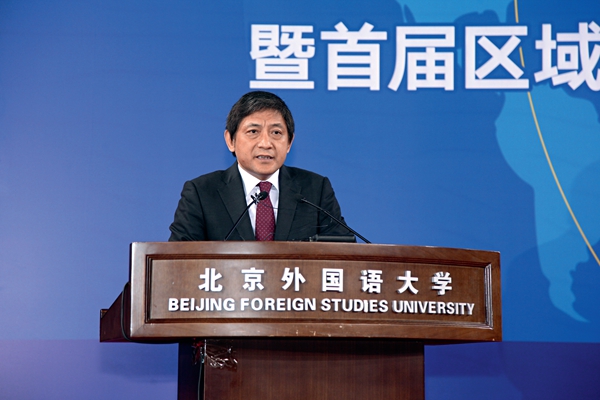 BFSU president Peng Long speaks at the university's Academy of Regional and Global Governance inaugural meeting on October 22, 2016.
Over the past several years, BFSU, based on its expertise in foreign language teaching, has set up a range of schools including the Silk Road Research Institute, Institute for Global History, Academy of Regional and Global Governance, and College of International Organizations. This semester, the university offered new courses in six Asian and African languages including Georgian, Afrikaans, Berber, Comorian, Punjabi, and Baluchi, which all appear for the first time in a Chinese classroom.
In addition, BFSU runs 22 Confucius institutes worldwide with the number of registered students soaring. To learn more about these measures and situations, China Today interviewed BFSU President Peng Long.