A University in Its Move to Contribute to Diversity of Civilizations – An Interview with President of Beijing Foreign Studies University Peng Long
China Today by Zhang Hui,January 10, 2018

Adjust font size:

Promoting Diversified Civilizations

China Today:BFSU has added many new languages to its curriculum. Can you tell us the university's motivation for the move? And how many language courses do you provide? What's BFSU's position in the country and the world in terms of foreign language teaching?

Peng Long:BFSU has long cherished a good tradition of serving the country's strategies. Since the beginning of the Belt and Road Initiative, BFSU has sought to contribute to the initiative. Those new language courses will help build a bridge for people-to-people exchanges among countries along the routes, and play a significant role in deepening research in the related regions.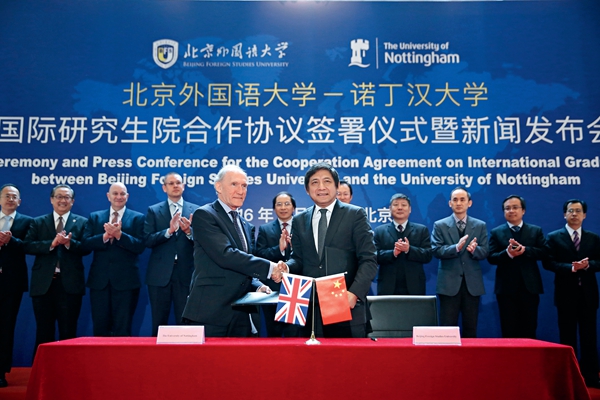 Peng Long at the signing ceremony for the cooperation agreement on international graduate schools between BFSU and the University of Nottingham.
In addition, as Chinese culture spreads to the outside world and more Chinese companies go abroad, people-to-people exchanges between China and other countries have become more frequent. As such, we believe it's time for BFSU to cover all languages used in countries with diplomatic relations with China. BFSU now offers courses of languages used in all EU and ASEAN countries, and is now preparing to cover all languages used in countries along the Belt and Road.
One important mission for BFSU is to contribute to diversity of world civilizations. As of now, we have opened courses of 84 languages, the largest number for any Chinese university. Today, language study universities in the developed world provide courses of a large amount of languages. For example, Harvard in the United States has courses of more than 90 languages, and Lomonosov Moscow State University teaches 120-plus languages. So, our plan is to cover all official languages used in countries that have established diplomatic relations with China by 2020. At that point in time, our university will be at the same level as those in the developed world.
I think to cultivate people adept at less common languages is to ride the globalization trend, and to respect different civilizations. Now as the world is becoming increasingly integrated, we can't marginalize or even ignore some cultures, simply guided by some indexes about national population, economic development, and politics. It's necessary to break the monopoly of the dominant countries over people's cognition of the world, and incorporate courses into our curriculum about the culture, history, and economy of countries whose languages are less used globally, thus promoting diversity and pluralism of the world.
China Today:BFSU's Silk Road Research Institute was founded in January 2015 as an important think tank about the Belt and Road Initiative. Would you give a brief on its work? What's its role in promoting China's people-to-people exchanges with countries along the routes?
Peng Long:The Silk Road Research Institute is mainly engaged in talent cultivation, academic research, social service, and international exchanges to serve the Belt and Road Initiative. I think BFSU's advantage lies in its capacity in foreign language teaching, which enables us to carry out research on the history, culture, and other aspects of those countries along the routes with the first hand information and documents.
The institute has organized multiple think tank exchange events and training programs including the advanced political and economic training session for officials from Sri Lanka in December 2015, the advanced training program on sustainable development for officials and media people from Thailand in 2016, the 2016 "Friends on the Silk Road" Cambodian social governance seminar, and the new media training program for Mongolian officials and media workers in 2016.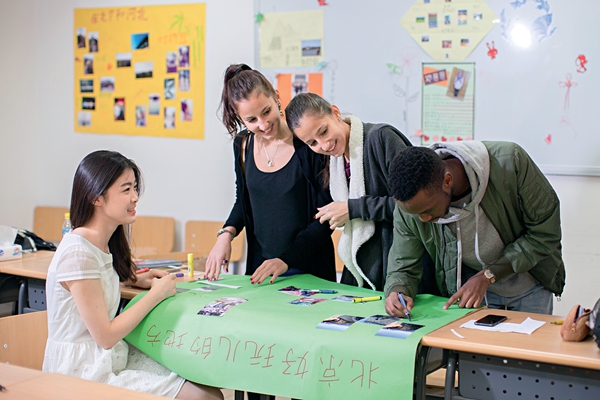 BFSU's Chinese and foreign students discuss fun and exciting places to check out in Beijing.
Meanwhile, the institute has also carried out surveys to learn more about people in countries along the Belt and Road regarding their knowledge and understanding of China's development, and their needs for self-development, which provides advisable guidance for later people-to-people exchanges along the Belt and Road.