China's New "Four Inventions" and More
China Today,October 24, 2017

Adjust font size:

Innovation Transforms Life

I have asked myself the question, what led to the ongoing transformation of life in China? It is not difficult to find the answer. When industrialization comes to a certain stage, innovation emerges as the driving force of industrial development, and has broad, profound impact on people's daily lives. Take online shopping and the accompanying courier service as an example. The viability of e-commerce is, to a great extent, associated with the speed of delivery. Many online retailers have installed automated sorting systems (disc-shaped robots) in their warehouses that, at the instruction of the company's order processing system, find the ordered items and move them to different sections of the warehouse according to their destinations. It is quite a spectacle to behold a horde of tiny robots gliding back and forth across the floor, swiftly but orderly.

This scene, however, is no comparison to the automatic wharf at the Qingdao Port. Developed three years ago and put into use in May, the system reduces the required manpower by 85 percent and increases work efficiency by 30 percent. For instance, it now takes only nine workers to load up a container, down from 60 in the past.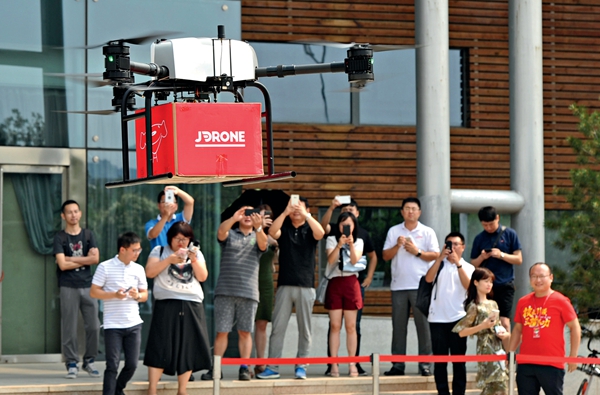 Chinese e-commerce giant JD successfully delivers a package by drone to the office building of the Administrative Committee of Xi'an National Civil Aerospace Industrial Base on June 18, 2017.
The impact of industrial innovation can be felt in all aspects of Chinese people's lives, ranging from clothing, dining, and housing to transport. Some are of revolutionary significance. It is widely recognized that China is a leading player in the unmanned drone sector, hosting 400-plus drone manufacturers and supplying 70 percent of the global market for both civilian and military drones.
In January 2016, China unveiled the world's first autonomous passenger drone, heralding the age of the "air bus." The country has also developed a near space solar unmanned aerial vehicle that can stay airborne for months at a time and potentially even years, in the future. Its impact on the world may exceed our wildest imaginations. To borrow a popular catchphrase, as long as we can dream it, we can make it.
There are more technological innovations in the making in China, including combustible ice, quantum computers, autonomous rail transit (ART) and voice translation machines (by iFlytek). Some will soon enter commercial application. The ART train, for instance, can run without tracks, which saves construction time and money, while its carrying capacity is on a par with its railed peers. Zhuzhou City, where the ART developer CRRC Zhuzhou Institute Co., Ltd. is located, is planning on China's first ART route that may start operation in 2018.
A Chinese phrase describing fast change is "taking on a new look with the passing of every day and month." This is exactly what is happening in China. Under sweeping industrialization, the country has reached a new inflection point in history.
ZHENG RUOLIN is a former Wen Hui Bao newspaper journalist stationed in Paris and author of Les Chinois Sont des Hommes Comme les Autres.