China's New "Four Inventions" and More
China Today,October 24, 2017

Adjust font size:

In a recent survey by the Beijing Foreign Studies University, international students from various countries including Nepal, Cambodia, Egypt, Ukraine, India, Poland and Malaysia were asked to name the Chinese manufactured items they most aspire to bring to their respective native countries. The highest number of votes went to "the four great inventions of modern China" – high-speed trains, mobile payments, the bike sharing system, and online shopping.

Centuries ago, the compass, gunpowder, papermaking, and printing – the great four inventions of ancient China – were introduced to the West by way of Arab traders along the Silk Road. In modern times, these four innovative solutions and their unique implementation are transforming Chinese life in a similar manner, and are craved by people of other countries.

Why So Admired

High-speed rail is nothing new to France. Back in the early 1990s, while reporting for the Shanghai-based Wen Hui Bao newspaper, I personally covered the rivalry between TGV of France, ICE of Germany, and Shinkansen of Japan for the Chinese market. China at the time was more interested in the French technology of high-speed rail. I also had the opportunity to accompany Zhu Rongji, then mayor of Shanghai and later the Chinese premier, on his ride on the Paris-Lyon line.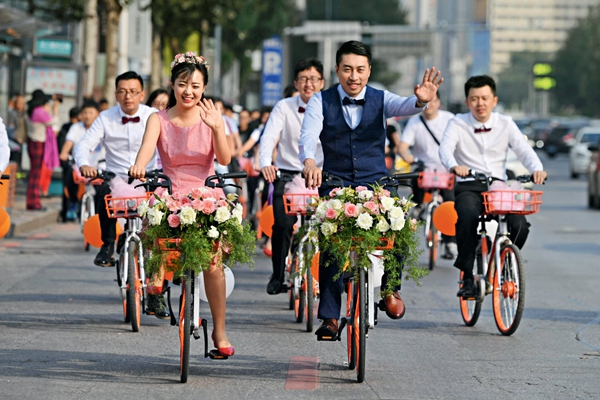 A couple in Shenyang ride shared bikes to their wedding on September 9, 2017.
China approached Alstom for technology transfer in this area, but was rejected. It then began to develop high-speed train technology independently, and put it into operation a decade later. If Alstom had considered a long-term strategy more prudently, the 22,000-km high-speed railway network across China today might possibly have been implemented by the French. At present, China is home to more than 65 percent of the world's high-speed rail mileage, all domestically manufactured with operational speeds between 300 and 350 km/h.
Foreign students in China love its high-speed trains for several reasons. The first is obviously the speed and the resultant time saved. A ride from Beijing to Shanghai, 1,318 km apart, takes just under five hours. The ride is also lauded for its smoothness; a student stood a coin on its edge on the window sill of a train moving at high speed, and it remained stationary for minutes. Adding to that is the incredible affordability of traveling on these trains. Economy class tickets from Beijing to Shanghai cost a mere RMB 553 (€73). Furthermore, among other amenities, the seats can swivel around 180 degrees, a feature only available in the business class carriages of the updated French high-speed trains starting this year. Though a latecomer, China has overtaken France in the high-speed rail sector, which debuted in the European country in the 1980s.
Foreign students are also quite fond of the ubiquitous mobile payment systems in China. It is incredibly convenient to swipe one's mobile phone and pay through Alipay or WeChat. And almost all retailers accept them, for payments as trivial as one yuan. As an experiment, a U.S. reporter spent a day in China without any paper or plastic cash. Yet he was able to hail a taxi, eat in a restaurant, shop, pay utility bills, go to the cinema and transfer money to his friend... all through his mobile phone.
According to a report in the Financial Times, China's mobile payments are nearly 50 times greater than those in the U.S. Last year 358 million Chinese people paid through their handsets, and the sum added up to RMB 5.5 trillion. One reason for such popularity might be that credit cards never superseded the popularity of cash transactions in China. China now leads the world in mobile payments, whose impact on the rest of the world is yet to be seen.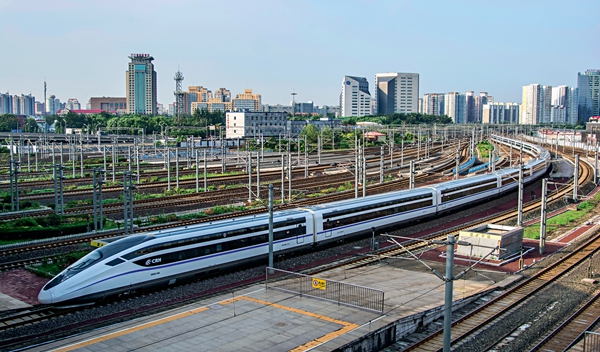 A China-made high-speed, double-deck sleeper train arrives at Beijing South Railway Station on August 16, 2017.
Shared bike systems, or bike rental schemes, have also long existed in France. But what makes the Chinese implementation considerably more appealing and useful is that one can pick up and drop off the bike at any location one desires instead of designated spots. To unlock the vehicle, and pay for the ride, all that is needed is to scan the QR code on it after downloading an app to one's mobile phone.
I presume everyone knows about online shopping nowadays. Alibaba founder Jack Ma is world famous. Taobao and TMall under his group's umbrella and other retailer websites such as JD and Dangdang are all available to French consumers. In China the number of Internet users has reached 731 million, and 467 million of them, or 64 percent, shop online regularly. The value of their transactions stands at RMB 26.1 trillion (above €3.4 trillion), accounting for close to 40 percent of global retail e-commerce.
After taking a fancy to a cell phone charger in my home, a French friend of mine ordered one online with my help. The order was placed at 10:30 am and by 3:00 pm the same day, the new charger had arrived. According to Chinese law, all products ordered online can be returned or exchanged unconditionally within seven days of purchase. My friend was amazed by the efficiency and convenience of online shopping and delivery, which is testament to China's extensive and incredibly efficient logistics network.
E-commerce is not limited just to cities. It has begun to boom in the countryside. JD, a leading Chinese e-commerce player, began delivery by unmanned drones in far-flung rural areas in certain provinces. The Internet has triggered a veritable revolution in Chinese people's buying habits.