Vietnam's Progress Beckons Chinese Impetus
China Today, June 20, 2017

Adjust font size:

Evolution of a "Motorcycle Kingdom"

My first impression on hitting the streets of Vietnam's capital Hanoi was that the country truly is a kingdom of motorcycles. Every lane and street teems with them, and they monopolize parking lots. I saw hardly any bicycles, and there seemed to be fewer cars on the road than in Chinese metropolises. "Almost everyone in Vietnam owns a motorcycle. It's a staple form of transport to and from work," Nguyen Thu Hang, a young Vietnamese woman working as a translator in a Chinese organization, told China Today. The average monthly salary in Vietnam is around US $300. This explains why the motorcycle is the most popular transportation choice.

Vietnam's reform and opening-up drive began in 1986. Early on, its per capita GNP was less than US $100. It has since risen to beyond US $1,000. Since the turn of the millennium, Vietnam's economic growth has on average, hovered between five and eight percent, and in Asia is second only to China. In 2005 the UN commended Vietnam for its balanced development, evident in its Gini coefficient being the lowest in Asia. It was thus perceived as a country whose people are relatively wealthy.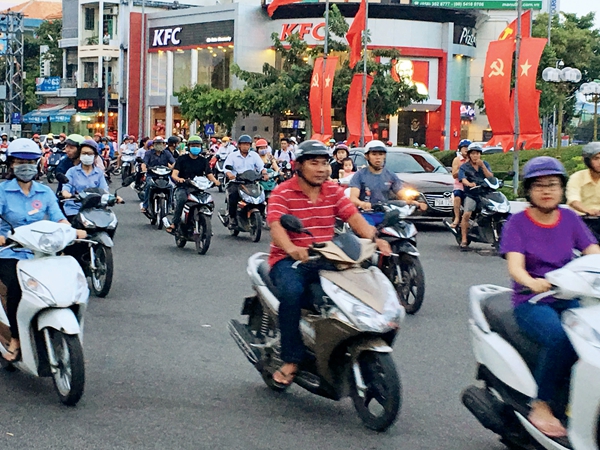 Motorcycle traffic dominates almost every street in Vietnam's cities.
This fast developing country, however, is short on quality infrastructure. The inadequate highway network is marred by the poor conditions of its roads, the railway network serves mainly urban areas, and its urban rail transit systems are in their infancy. If Vietnam is to tackle and complete big infrastructure projects, it must attract foreign investment. According to the Saigon Times, Vietnam's yearly capital demand for infrastructure construction is around US $25 billion. State and private investment contributes US $16 billion, leaving a shortfall of US $9 billion. Therein is ample scope for China-Vietnam cooperation.
The China Railway Sixth Group Overseas Branch Company built Hanoi's light rail transit line 2, linking Cat Linh in the city center with Ha Dong in the south, with Chinese equipment according to Chinese technical standards. It is an inter-governmental cooperation project funded by a preferential loan from China.
"The material used for the transit line is top-grade, and after years of use in China's multiple subway lines, the quality of the equipment installed has passed the test of time," deputy general manager of China Railway Sixth Group Overseas Branch Company Sun Dezhi told China Today.
The rail transit line will greatly ease Hanoi's frequent traffic jams and expand the city's development space. "I get caught up in traffic congestion almost every day. The 15-minute motorcyle-commuting distance usually takes more than 25 minutes. Once the rail transit line comes into use, my commute to work will take only 10 minutes each way," Do Duc Trung, a Vietnamese employee on the project, told China Today.
Wang Duo, chief representative of the Vietnam Office of China National Machinery Import and Export Corporation, has worked in Hanoi for seven years, and witnessed the city's dramatic changes. "We wanted a quiet location for our office building and so came here (Trung Hoa Nhan Chinh, Thanh Xuan District of Hanoi). At that time our five-story building was the tallest in the area. But now, as you see, there are many, much taller buildings. Back then, there were hardly any cars. Since then more people have moved into the community, bringing cars with them," Wang told China Today.
From Suspicion to Trust
The path has not run smooth for the Chinese company contracted to build the transit line project in Hanoi. "It seems we're paying the price for some small, irresponsible Chinese manufacturers that traded inferior products in the past. When, in the early days of our Hanoi project, we proposed buying China-produced equipment, the response of the Vietnamese property owners' committee was one of doubt and suspicion," Sun Dezhi said. Although it's an EPC (Engineering, Procurement and Construction) contract, the Chinese company needs approval from the property owners' committee before any major procurement.
Made-in-China daily necessities and small household appliances first came into Vietnam in the late 1980s. But a profusion of cheap, poor-quality products produced a generally unfavorable impression of Chinese-made goods among Vietnamese people.
"For example, we selected a Chinese manufacturer for our procurement of an automatic ticket checking system. However, the property owners' committee insisted that a system produced by a European company would be better. We agreed that the European system was good, but pointed out that it had never been used for a rail or subway transit line. After showing proof that the Chinese system had been used for 18 subway lines in China, and that no malfunctions had been reported, the property owners' committee finally agreed," Sun Dezhi told China Today.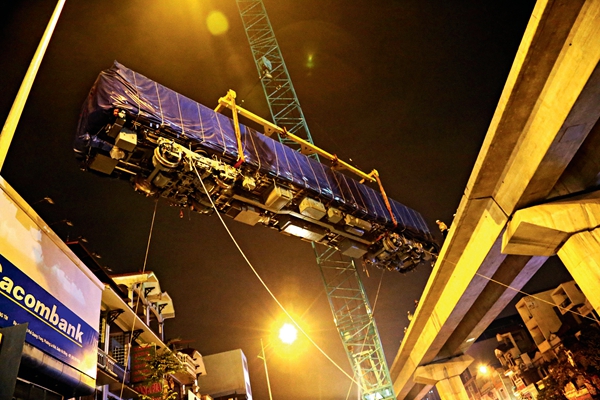 The arrival of the China-produced locomotive earmarked for Hanoi's light rail transit line 2, currently under construction by the China Railway Sixth Group, caused a sensation in local communities.
When designing the rail track, the Chinese company adopted an energy-saving upslope for pulling into the station and a downhill one for drawing out. "But many people didn't understand that this was an energy-saving design. Some asked, 'Why do we have to have the slope design when the Japanese-constructed transit track in Ho Chi Minh City is straight?' We did our best to explain the design to the property owners' committee and the Vietnamese Ministry of Transport. But it was only when local experts gave it their public support that the committee finally bought the idea," Sun said.
Last year, a music video clip with no voiceover shown on youtube caused a sensation in Vietnam. It compared pictures of the Japanese-built rail transit line in Ho Chi Minh City with pictures of the line in Hanoi constructed by the Chinese company, which clearly showed that the latter outperformed the former in almost every respect. And more importantly, that the Chinese-built line cost the Vietnamese people less than the Japanese track.
"That was when the mainstay of public opinion changed from doubt to the current anticipation of the line's completion. Our Vietnamese employees also gave us full credit for the top-grade construction material used in the project. They said that some Vietnamese people considered the TOTO sanitary fittings used in stations along the transit line to be luxurious," Sun said.
The Vietnamese government is now eminently satisfied with the Chinese-built rail transit line. It has already voiced its intention to cooperate with the Chinese company on building other rail transit lines when this one is finished.
Meanwhile, another China-Vietnam cooperation project, the Vinh Tan 1 power plant project, mainly funded by China Southern Power Grid Co., Ltd. and China Power International Co., Ltd., has also established its reputation in Vietnam, by virtue of its high-quality and professional construction work, scientific management, and effective environmental protection measures.
"Chinese people work efficiently, and their workers are highly skilled. That explains why the project is progressing so quickly," the project's independent engineering supervision director Nguyen Nhan Bao told China Today.
According to Xu Jinglun, the project's deputy general director, the power plant will be the first in Vietnam to use the supercritical "W" flame boiler technology. This is expected to lower significantly the coal consumption needed for power generation, and reduce yearly CO2 emissions by about 20,000 tons. After it comes into operation the power plant will meet one sixth of southern Vietnam's power demand.