Vietnam's Progress Beckons Chinese Impetus
China Today, June 20, 2017

Adjust font size:

China has both land and sea borders with Vietnam. The Lancang River, whose source is on the Qinghai-Tibet Plateau, rolls down to the Indochinese Peninsula, where it becomes the Mekong River, and drains into the South China Sea near Ho Chi Minh City. China and Vietnam forged a profound friendship during their respective efforts to gain independence by extending helping hands to one another. The song "Vietnam-China," composed by a Vietnamese musician, was hugely popular in both countries in the 1960s and 1970s. It stands testament to the deep bond between the two nations.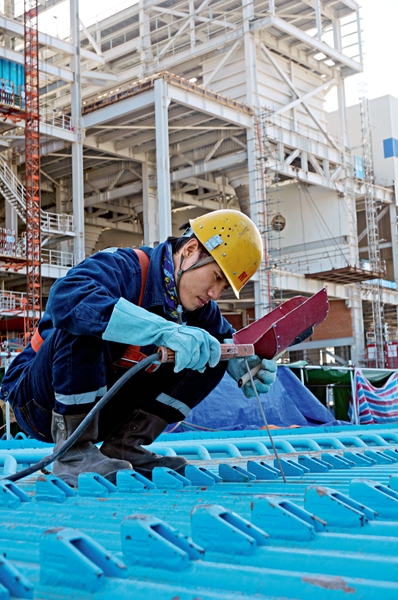 Nguyen Van Thuong, a welder on the China-constructed Vinh Tan 1 project, is satisfied with the opportunity to improve his skills and earn a good salary.
Throughout history, Chinese culture has significantly influenced life in Vietnam. Until the 1920s a logographic system of Chinese characters was used in Vietnam to represent Sino-Vietnamese vocabulary and certain native words. Since the turn of the millennium, both countries have deepened their domestic reforms. China's development began earlier than that of its southern neighbor, and Vietnam has learned much from their cooperation in the areas of infrastructure construction, electricity, and manufacturing. China has been Vietnam's biggest trade partner for 13 consecutive years, and Vietnam is China's biggest trade partner in the ASEAN group. Tourism in Vietnam is booming, and China is its largest source.
As the Belt and Road Initiative continues to advance, China and Vietnam are expected to cooperate in even more areas. China Today's correspondent joined a team of reporters from China International Publishing Group on a trip to Vietnam in late April. The common objective was to find out more about bilateral cooperation projects.