Sowing Seeds of Comprehensive Development
China Today, June 20, 2017

Adjust font size:

Chinese society has always sets great store by education. This high expectation of education, however, weighs on students, and also their families. As enrolment for further education continues to increase, education that was once mainly exam-oriented is starting to lean towards a more comprehensive development of students' capabilities. Beijing, for example, has launched a new round of education reforms that stress the importance of extracurricular activities.

The reforms started in 2013 when the municipal government created new regulations for class hours, limiting primary school classes to six hours a day and eight hours for middle school students. After classes finish at 3:30 pm, schools don't shut down but instead become places for students to give full play to their interests and talent.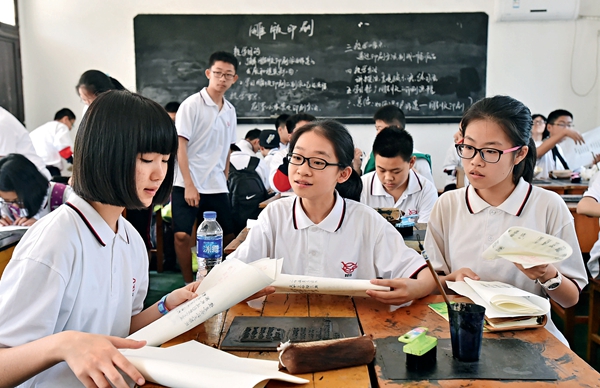 Students from Beijing Chenjing-lun School try their hand at woodblock printing on a school trip to Yangzhou City, formerly the printing capital of China.
At Beijing No.2 Experimental Primary School, dozens of extracurricular courses including science and tech, art and sports, are open to students after school, and run by teachers from professional football teams, basketball clubs and orchestras. In Dongcheng District, golf lessons have been made available in 10 primary and middle schools. Interested students can attend the course for free, with equipment and coaches provided by professional clubs.
Since 2014, the Beijing municipal government has annually invested RMB 500 million in extracurricular courses at primary and middle schools. More specifically, there is government funding of RMB 400 for each student in the six urban districts and RMB 500 for each in suburb areas. The activities are carried out in the form of clubs, and, as required, no less than an hour a day, three or more days a week.
The extracurricular project involves teachers from colleges and private educational institutes, science and technology museums as well as athletes, coaches, artists, and scientists. Students can learn about the latest social trends and gain knowledge about their fields of interest. Some might go further to become professionals, while other students develop special expertise and artistic talent.
Tao Xiping is a member of the National Advisory Committee on Education and honorary chair of the Beijing Federation of Social Science Circles. The veteran educator said that the ongoing comprehensive reforms of basic education in Beijing focuses on what students can get from education, which is the goal of these reforms. The students are at the center of the reforms, which means educators should first understand students in order to maximize their potential.