The Globalization Pace of Confucius Institutes
China Today by Li Jie, April 26, 2017

Adjust font size:

Elizabeth, from Ireland, is in her late 60s. She adores Chinese fiction, especially works by Yu Hua and Mo Yan. Thanks to the classes she has been taking at the Confucius Institute for almost a decade, she can read Chinese fluently. Wang Hong, the Chinese dean of the Confucius Institute at the University of Helsinki in Finland, teaches her current course. "Elizabeth never misses any classes and is passionate about learning Chinese," Wang Hong said of her student.

Elizabeth is no exception. "The students in my class include young women whose style of dress reflects their fascination with China, a Finnish girl whose main pastime is Chinese calligraphy, which she executes beautifully, and seniors who have been studying for many years." Wang Hong is somewhat bemused at this phenomenon, but nonetheless gratified that, "These students are truly obsessed with learning Chinese."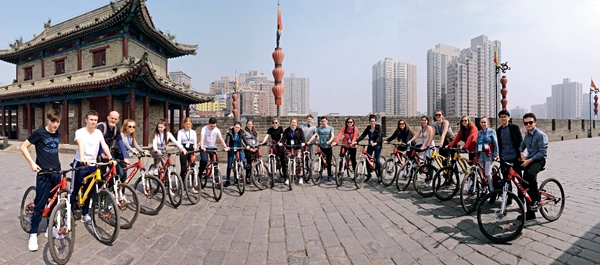 Students from the Confucius Institute at University College Dublin visit Xi'an to learn more about Chinese culture.
Along with teaching Chinese language and calligraphy, and giving classes on traditional Chinese poetry and opera, the tens of thousands of personnel, like Wang, who work abroad at Confucius Institutes also answer specific questions about Chinese culture, and social issues. These include, "Why do some Chinese children wear open-crotch pants?", "Why are the Chinese so keen on soup?" and "What is the Chinese government doing about the smog?"
The 511 Confucius Institutes, 1,073 Confucius classrooms and their 2.1 million attendees in 140 nations have made Confucius Institutes as a whole a bridge-builder and medium for East-West cultural exchanges. They tell the world about China and enhance friendship and cooperation between China and other countries.