Zhang Yimou's 'The Great Wall' debuts in US
china.org.cn / chinagate.cn by Zhang Rui, February 21, 2017

Adjust font size:

Zhang Yimou's fantasy monster movie "The Great Wall" took in an estimated US$18.1 million in three days during release across 2,470 North American theaters since Friday, the widest release ever for a Chinese or Chinese-American film in the market.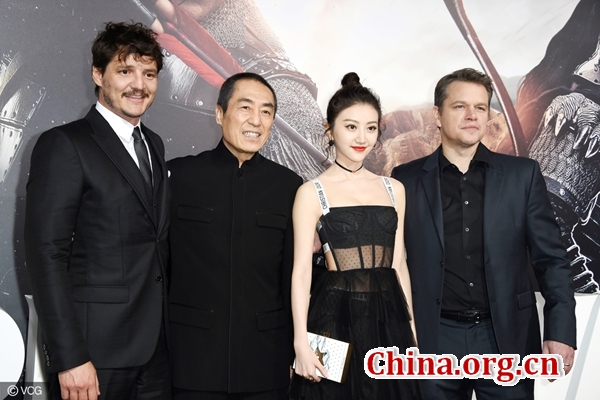 (L-R) Actor Pedro Pascal, director Zhang Yimou, actress Jing Tian and actor Matt Damon attend the premiere of Universal Pictures' "The Great Wall," Feb. 15, 2017, at the TCL Chinese Theatre in Hollywood, California. [Photo / VCG] 
The film, starring Matt Damon and Chinese stars such as Jing Tian and Andy Lau, is expected to gross US$21 million for the four-day Presidents' Day weekend. The Chinese-American co-production will rank at No. 3 of the weekend box office chart, the highest position for newcomers opening last week, just behind "The LEGO Batman Movie" and "Fifty Shades Darker," both in their second week run.
The first week's income of "The Great Wall" was nearly equal to Zhang's other blockbuster back in 2004, "Hero," which debuted with US$18 million for the first weekend and grossed US$53.71 million in total in North America.
But "Hero" received rave reviews from critics, while "The Great Wall" received a great number of bad reviews. On RottenTomatoes.com, the online aggregator of movie and TV show reviews, "The Great Wall" only has an approval rating of 36% based on 143 reviews. The site's critical consensus reads, "For a Zhang Yimou film featuring Matt Damon and Willem Dafoe battling ancient monsters, 'The Great Wall' is neither as exciting nor as entertainingly bonkers as one might hope."
The film has already made US$262 million worldwide so far, including US$170 million in China. It is Zhang's first English-language film and now stands as the biggest grossing film in his career. But it also received many bad reviews in China.
"Carefully composed to provide an equally inoffensive balance for both the Chinese and American markets, ending up with the worst of both worlds," Las Vegas Weekly's Josh Bell wrote.
The film was poised to be Zhang's new vehicle of exporting Chinese culture, and a precedent for a new model of Chinese-American co-production, ended up being a disappointment.
"If the film fails, your mission to export culture will fail too," Zhang Yimou once told China.org.cn.
"The Great Wall" has also reached No.1 on its debut in many international markets such as France, Egypt, Belgium, and Russia. It will hit screens in the Latin American markets in the coming weekend and will open in the last major market of Japan on April 14.