'Soul Mate' leads HK Film Awards noms
china.org.cn / chinagate.cn by Zhang Rui, February 9, 2017

Adjust font size:

The 36th annual Hong Kong Film Awards have announced their nominees, with romantic film "Soul Mate" topping the list with 12 nominations.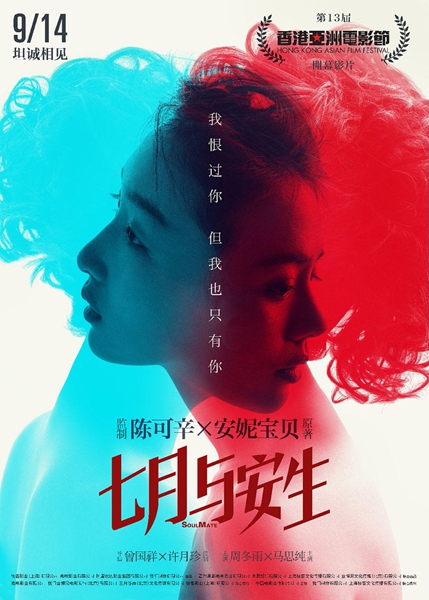 A poster for film "Soul Mate" [File photo]
Nominations for the film by Hong Kong director Derek Tseng include Best Film, Best Director and two Best Actress nominations for its female leads, Zhou Dongyu and Ma Sichun.
The film, adapted from a novel of the same title, tells the story of two best friends who fall in love with the same man. It received rave reviews since its release last September. "Soul Mate" garnered the Best Actress award for both Zhou and Ma at the 53rd Golden Horse Awards, making history with a joint Best Actress win in 2016.
Other films nominated for Best Film include action-drama "Cold War II," "The Mermaid," "Trivisa" and "Weeds on Fire."
"Cold War II," directed by Lok Man Leung, Kim-Ching Luk and starring Aaron Kwok, Tony Ka Fai Leung, Yun-Fat Chow and Charlie Yeung, gained 10 nominations. Its previous installment "Cold War" swept the 32th Hong Kong Film Award with nine wins.
Stephen Chow's top grossing sci-fi comedy "The Mermaid," Chun Wong's indie drama "Mad World" and Chi-fat Chan's sport film "Weeds on Fire" all have eight nominations, respectively. Frank Hui, Jevons Au Man-Kit and Vicky Wong's "Trivisa," another critically applauded crime film, earned seven nominations, with actors Lam Ka Tung and Richie Ren both nominated in the Best Actor category.
Mainland actress Tang Wei has also been nominated for Best Actress for her performance in "Book of Love."
The 36th Hong Kong Film Awards will be announced on April 16.