Surrogacy should be allowed for older couples
china.org.cn / chinagate.cn by Wu Jin, February 8, 2017

Adjust font size: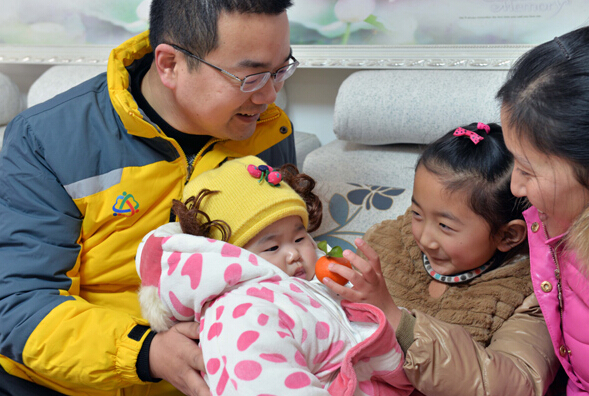 A couple play with their two children in Hubei Province in March, 2015. [Photo: Li Chuanping/China Daily]
The loosening family planning policy, which now allows families to have a second child, has fueled the desire among many couples to have a second child.
However, among those couples, many of whom are at an advanced age, the delivery of a second child has come with difficulties, demonstrated by a low fertility rate on top of the hazards for women who have previously undergone cesarean sections in initial deliveries.
The quality of the ovum eggs prone to aging, pollution, electromagnetic radiation and chemicals continues to decline in the 10 years before menopause, with 90 percent of the Chinese women who terminate pregnancy around the age of 40 becoming infertile when they reach 45, said Geng Linlin, deputy director of the Clinical Research Center of National Health and Family Planning Commission.
Moreover, at an advanced age, women, subject to the diseases that may severely affect pregnancy, are more likely to have miscarriages, while men at a similar age can suffer insufficient sperm production.
In view of the concerns over the risk of pregnancy among the middle ages, doctors in China proposed a loosening of control over the surrogacy service.
We should put a brake on the over-paced surrogacy market to ensure that it will not go wild, but we should also make sure that our control will not be too tight either said Wang Yifang, professor from the Humanity Research Institute of the Peking University Health Science Center.
China has banned surrogacy since 2001 when Laws of the Management of Auxiliary Reproductive Technologies of Human Race were enacted. Among the provision is an item stipulating that the country prohibits the transactions of gamete, zygote and embryos in any forms.
Many families lost children in the Sichuan Earthquake in 2008, but when some couples who suffered a loss planned to have another child, they were disappointed to find that they have become too old to do so, Geng recalled.
The surrogacy market can open as long as the authorities are capable of ensuring the operation conforms to technological and moral norms, the doctor suggested.
However, moral issues remain big concerns among the experts, who are divided over the pros and cons about the feasibility of surrogate mothers.
Xue Jun, professor from the Law School of Peking University, is concerned that by entrusting and inserting a couple's fertilized egg to a woman who is expected to deliver their baby may challenge family intimacy and cause painful separation between surrogate mothers and the babies. Lawsuits struggling for the custodies of the new births cannot be ruled out.
However, Wang Lina, chief physician of the Gynecology and Obstetrics of Peking University Third Hospital, said, recent years have witnessed a growing rate of young peoples succumbing to tumors. The surrogate mother may fulfill their wishes as young women who may have parts of their womb cut, still yearn for a child.
According to the Human Reproduction Program of the World Health Organization, the high infertility rate, which hovers around 15 to 20 percent across the world, has imposed a grim threat onto the future of mankind.