North China's air pollution less than expected: ministry
Xinhua, December 19, 2016

Adjust font size: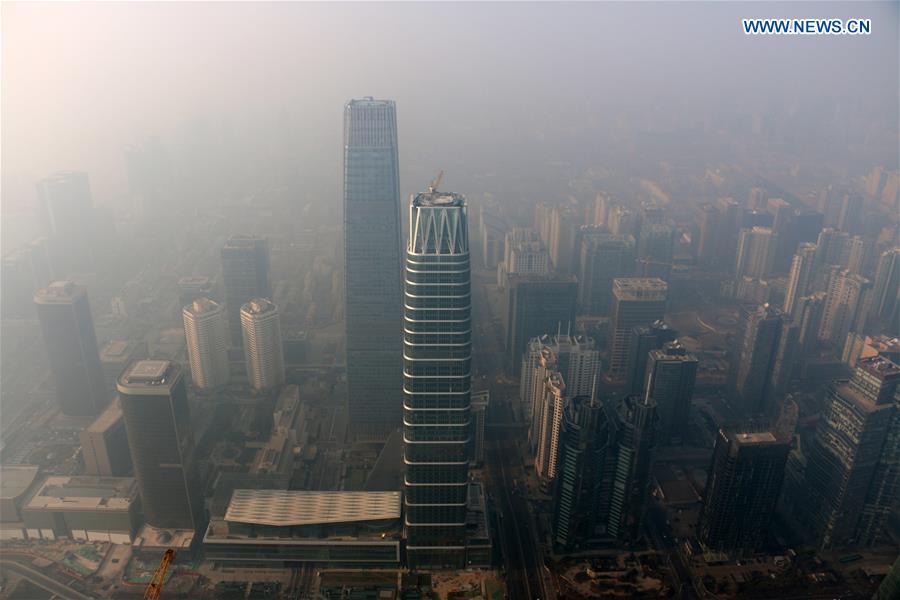 Photo taken on Dec. 17, 2016 shows buildings enveloped in smog in Beijing, capital of China. Beijing activated its first red alert for smog this winter on Friday. The sky was gray across much of north China on Saturday as at least 24 cities, including Beijing and Tianjin, have activated red alerts to address the pollution. The measures included car restrictions on roads, suspension of construction and classes for kindergartens and primary schools as well as reduced emissions for factories. (Xinhua/Jin Liangkuai)
North China's latest bout of air pollution has so far been less serious than expected, thanks to counter measures adopted by local authorities, China's top environmental watchdog said Sunday.
At least 23 cities in north China, including Beijing and Tianjin, have activated red alerts as the air began to turn hazy starting Friday, prompting local governments to impose car restrictions on roads and cut emissions for factories.
The heavy smog came a bit later than previously forecast as efforts paid off, and pollutant density in the air has somewhat been reduced in these cities, the Ministry of Environmental Protection said.
However, further observation is needed to confirm the actual effects of these measures, and air pollution is still likely to worsen as weather conditions continue to be unfavorable, said the ministry.
Pollution levels are likely to peak between Sunday and Monday, it said, adding that there will be another peak on Wednesday, it said.
The ministry has sent 13 inspection teams to check whether local governments have taken appropriate measures to address heavy pollution and sanction illegal factory emissions.
In Beijing, the air quality index (AQI) reading reached 253 at 3 p.m. Sunday, indicating heavily polluted air, according to the Beijing Municipal Environmental Monitoring Center.
China's National Meteorological Center(NMC) maintains an orange alert for smog on Sunday for north China, warning that air pollution will be the most severe from Monday evening to Wednesday.
Some regions will see PM2.5 density levels exceeding 500, the NMC said, adding the smog is expected to disperse from Wednesday night.
China has a four-tier warning system for severe weather, with red being the most serious, followed by orange, yellow and blue.