Providing for her family with handicrafts
China Daily, October 21, 2016

Adjust font size: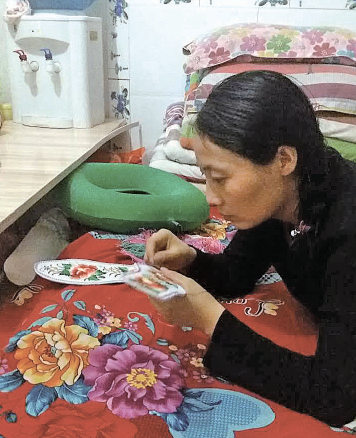 Qu Shuanling weaves a pair of insoles at her home in Huachi county, Gansu province. [Photo/China Daily]
A cold autumn wind blew across the Loess Plateau in Huachi county, Gansu province, but beads of sweat were rolling down the face of Qu Shuanling in her yaodong, a type of cave dwelling common in the area.
With a blanket wrapped around her lower half, the 29-year-old lay flat on her stomach on a 1.5-meter-wide kang, or raised heated bed, trying to keep her hands steady as she wove intricate details onto a traditional Chinese insole.
Gansu is famous for its handcrafted insoles, and local women often make them to prove their deftness. But for Qu, it is a much more serious matter-she is partially paralyzed and the income from her work is crucial to providing for her family of four.
Qu is one of the 17,000 documented poverty-stricken residents in Huachi county-there are 4.17 million in the whole of Gansu. Her family's annual income is 3,000 yuan ($450) per capita, which is 1,000 yuan below the province's projected poverty threshold for 2017.
She is waiting to be resettled next year under the local government's poverty alleviation program, which will move her family to somewhere with better economic opportunities and infrastructure. But until then, her insoles are her only form of income.
Seven years ago, Qu fell off a motorized tricycle and landed on her back. "My neck was in great pain, but I felt nothing below my chest," she recalled.
After surgery, she went to a rehabilitation center and saw patients struggling to stand, even after years of therapy. "It was then I realized I too might never walk again," she said.
At age 22, with a 1-year-old daughter, Qu was paralyzed from the waist down. She even contemplated suicide, but the thought of not seeing her daughter grow up pulled her out of her despair.
Her husband works as a casual laborer and would often collapse asleep in a chair after a long day at work. Seeing this, Qu was determined to do what she could to support the family, without leaving her bed.
She began weaving insoles in 2013, studying designs by browsing the internet on her mobile phone and falling in love with the craft almost at once.
Within a week, she had finished her first pair, which were sold to a bride in Shaanxi province through WeChat for 100 yuan.
"I was so happy when someone bought my handicrafts. I could finally buy some new clothes for my daughter," she said.