Rural kindergartens help to prevent poverty trap
China Daily, October 19, 2016

Adjust font size: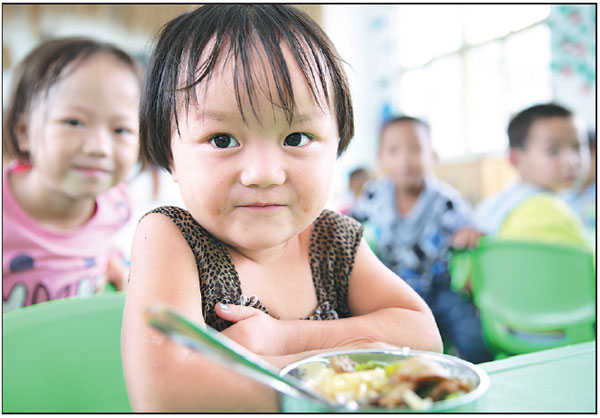 Shi Jiahui, 3, eats lunch at the Houzhai Village Kindergarten in Tongren, Guizhou province.Photos By Hou Liqiang / China Daily
An initiative in one of China's most mountainous areas may provide a template for future development.
As China marks its third Poverty Alleviation Day on Oct 17, the success of Tongren, a city in the southwestern province of Guizhou, in promoting preschool education in rural areas is being hailed as a possible blueprint for the eradication of poverty and a means of preventing its reemergence.
Initiated in 2012 by the China Development Research Foundation and Songtao Miao autonomous county in Tongren, the Mountain Village Kindergarten project has established 100 new facilities in isolated areas, and has been extended to cover the entire city.
Under the project, the proportion of villages with kindergartens has risen to 100 percent from just 10 percent three years ago. More than 2,000 facilities have been built for preschoolers in Tongren's rural areas, where seven of the 12 county-level regions have been designated by the government as national-level poverty-stricken counties.
According to the China Development Research Foundation, preschool education is key to a student's learning and skill-adaptation abilities, because about 50 percent of intelligence development is completed before the age of 4. The foundation said international calculations suggest that every investment of $1 in preschool education results in a social return of $17.
Building for the future
More than 70 percent of Tongren's 4.27 million people are members of 29 ethnic groups, including the Tujia, the Miao and the Dong peoples. In 2013, the average per capita income for farmers in the city was 5,397 yuan ($803), 40 percent lower than the national level that year.
Now, the authorities are hoping that Tongren's successful completion of a huge project, despite a limited budget, will provide a template for other poverty-stricken areas.
Instead of building new kindergartens, most of the facilities are located in disused primary school classrooms, village committee offices or houses, according to Long Lihong, director of the Tongren City Education Commission.
Under the program, kindergartens were built in every area where it could be guaranteed that more than 10 children would enroll, and the average cost of transforming and operating them is about 18, 000 yuan, she said.
In Houzhai village, the kindergarten is based in three disused primary school classrooms. Two of them are used for educational purposes, while the other serves as a sleeping room where the kindergarten's 27 preschoolers - stly "left-behind" children from a nearby 1,400-strong Miao ethnic community, whose parents are migrant workers - ke a midday nap.
Gao Xiulong, the headmaster, said two broken basketball stands have been made into a swing and several table tennis tables now serve as drawing boards. Some of the children's toys are made from discarded tires.
The kindergarten in Muzi-ping village, in the Wanshan district, was also once primary school classrooms, and almost all the toys are made from locally grown bamboo.
Tongren's total revenue was 37.88 billion yuan from 2011 to last year, and since 2012, the city government has allocated 5 percent of its annual administrative budget to the kindergarten project. District governments are given 10,000 yuan for every facility they establish in the mountains, and the city government allocates 300 yuan a year to every child for teaching materials.
Long said every department of the city government donates thousands of yuan annually, and they also actively seek sponsorship from businesses.
"Many kids in the rural areas are left-behind children. They are cared for by their grandparents, who are usually poorly educated and unable to do much for them. We have seen great improvements in the children's linguistic skills, cognitive competence and memory capacity since they entered the kindergartens," she added.
According to tests conducted by East China Normal University in Tongren, after spending a year to 18 months at a kindergarten, language competence in children ages 4 to 5 improves by 23 percent, while cognitive competence is 27 percent better and memory capacity rises by 34 percent.