Full text: UNDP Assistant Country Director's speech at China Poverty Reduction Int'l Forum
chinagate.cn, May 12, 2016

Adjust font size: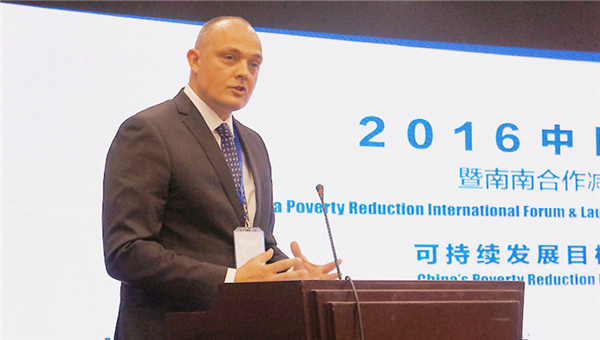 Niels Knudsen, UNDP Assistant Country Director and Team Leader for South-South Cooperation, gave a keynote speech at 2016 China Poverty Reduction International Forum & Launching Ceremony of Global Poverty Reduction and Inclusive Growth Portal on May 8, 2016 in Beijing. Here is the full text of his speech.
Distinguished guests, ladies and gentlemen,
On behalf of the United Nations Development Programme, let me extend my appreciation and thanks to [China's International Poverty Reduction Center and China Development Gateway], our close partner over the past decade, the International Poverty Reduction Center of China (IPRCC), as well as colleagues from the World Bank and Asian Development Bank for inviting UNDP to speak here today.
Since its adoption in September last year by all UN Member States, the rolling out of the Sustainable Development Goals (SDGs) has been on everyone's to-do list, and in particular linking goals and assessment frameworks with national plans and statistical systems. This is a complex exercise since the scope and span of the SDGs go so much further than the MDGs, particularly with the focus transformational change covering all dimensions of sustainable development and covering traditional partnership forms with private sector, knowledge institutions, civil society to name a few. It also attempts to address the many interlinked challenges our world is facing. Just like poverty reduction, it's not only a matter of improving income, but also enhancing knowledge and skills, as well as leading a healthy and creative life which can be enjoyed by all.
China's remarkable progress in poverty reduction during the past 15 years has prompted many countries to look towards China for lessons and experience to directly inform own poverty reduction efforts. Over the next 5 years, this focus will most definitely intensify as China takes bold steps to lift the remaining 55 million people out of poverty by 2020. Key will be what China will do differently to eradicate poverty from the past.
A new "targeted poverty alleviation strategy" will be applied, with components including mobility/relocation, increasing e-commerce and tourism etc. As part of this, the government will use a comprehensive national poverty database for optimizing targeting of initiatives, including actual fund allocation.
The poverty strategy will be rolled out in conjunction with the wider structural economic transition in China, including upgrading, employment reposition, expanded taxation reach and land reform initiatives, all key measures for reducing poverty and promoting inclusive growth for the poorest in rural and urban areas.
Within this approach of structural change and specialized measures, I would like to single out one aspect that may provide significant lessons to the world going forward, and that is China's strategic focus on individual capacity building, which by and large addresses poverty reduction through a multi-faceted human development approach that touches on the essentials of human well-being, including income and livelihoods, human dignity, participation and ability to innovate.
Today's launch of the Global Poverty Reduction and Inclusive Growth Portal speaks to China's role as a global player in development leading by own example as well as supporting national development efforts across the globe. The combination of supporting concrete initiatives through China's bilateral channels or through international organisations and instruments such as the South South Aid Fund, together with sharing own experiences is widely recognized and appreciated by developing countries. And in line with China's global initiatives such as the Belt and Road, the scope for promoting not only sustainable development cooperation but also sustainable trade and investment is significant.
As such the Global Poverty Reduction and Inclusive Growth Portal will gather important information and facilitate information exchange on poverty reduction. In order to achieve transformative impact, it remains key for all stakeholders to support and guide the tailoring of valuable development lessons to a recipient country context that often can differ quite a lot from that of China's. If strategies work well in one place, how can they be adopted in a different context?
This is a particular question we in UNDP are trying to address from different angles, either through research and knowledge generation that ranges from China's experiences with Special Economic Zones in China as well as in Africa, or the effectiveness of fund-allocation systems for domestic poverty reduction, or practices of private and State-Owned Enterprises when investing abroad, or UNDP's own flagship publication the National Human Development Report (NHDR) looking this year at the depth at how reforms and diversified public administration and social policies can help to address inequality. But the need to find concrete evidence and create results has also prompted us to establish a range of practical, cooperation initiatives involving China, UNDP and host countries in a range of areas but all focusing on testing approaches and tailoring of Chinese experiences to recipient country context in terms of poverty reduction.
With these points, I wish to thank all of you for your attention, to congratulate again, IPRCC, World Bank, Asian Development Bank, China Development Gateway (CnDG) on the launch of the portal. As always, we look forward to continued cooperation with you all in contributing - ahead of schedule - to China's achievement of SDG 1!
Thank you!