Mombasa-Nairobi railway not threatening wildlife
china.org.cn / chinagate.cn by Fan Junmei, April 28, 2016

Adjust font size: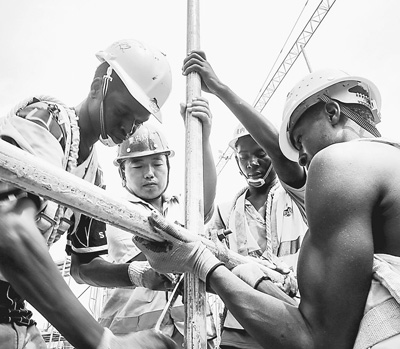 Chinese engineer Zhang Qingchun (L2) and Kenyan workers work at the Mombasa West Station. [People's Daily]
An article recently published on National Geographic magazine accused the under-construction railway, stretching from the port of Mombasa to Nairobi, the capital of Kenya, of threatening wildlife.
The controversial railway is being built by a Chinese company. A person in charge responded yesterday that the harsh criticism, at least some aspect of it, has distorted facts.
The Mombasa-Nairobi railway is set to be the biggest infrastructure project since Kenya achieved independence. About 56 percent of the project has been finished, and a trial run is expected in July 2017. Sections of the railway will run through protected land, including the Nairobi and Tsavo West National Parks.
As the section scheduled to pass the Nairobi National Park recently broke ground, National Geographic reported that Kenyan conservationists were placing tracking collars onto elephants to see how well Tsavo's estimated 12,000 savanna elephants traverse the new rail line.
In fact, this stretch of track is just 12 kilometers long and will affect less than one percent of the park.
"There are no other options except passing through the national park," the Chinese company told the Global Times. The Tsavo National Park covers an area of 20,000 square kilometers, and stretches over 240 kilometers from northeast to southwest, heading the same way as the Mombasa-Nairobi railway.
The park in southeastern Kenya was already traversed by an old, British meter-gauge railway and a two-lane highway known as A109. Parallel with the old railway and the highway, the new rail line will not exert secondary damage to the park.
As for the planned passage through the Nairobi National Park, it is the only way out neither dodging nor passing through the African Heritage House in Nairobi proved feasible.