China continues to work on overseas NGOs law
china.org.cn / chinagate.cn, March 10, 2016

Adjust font size:

China will continue to work on a law on international non-governmental organizations (NGOs) in the country and a cyber-security law, according to a work report of its top legislature delivered on Wednesday.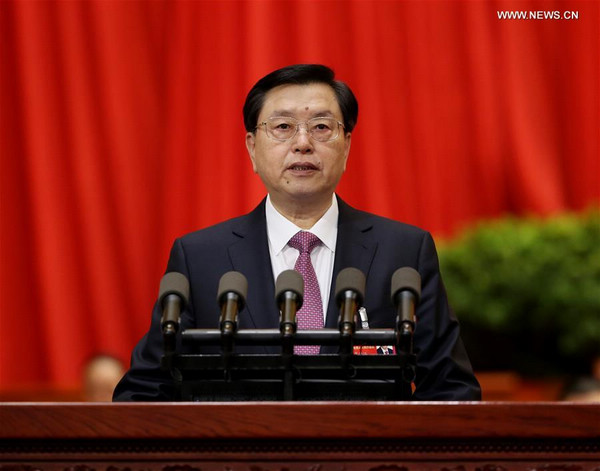 Zhang Dejiang, chairman of the Standing Committee of China's National People's Congress (NPC), delivers a report on the work of the NPC Standing Committee during the second plenary meeting of the fourth session of the 12th NPC at the Great Hall of the People in Beijing, capital of China, March 9, 2016. [Photo/Xinhua]
The draft law on overseas NGOs was tabled to the Standing Committee of the National People's Congress (NPC), the top legislature, for its second reading in April last year.
The bill aims to regulate overseas NGOs' activities in China, protect their rights and interests, and promote exchanges and cooperation.
However, it has raised concerns that the bill will restrict overseas NGOs' activities in China, as some of them have set up branches and are active in the country.
Fu Ying, a spokeswoman for the annual session of the NPC, said Friday that the law is not to restrict their lawful, helpful activities in China, but to provide a sound legal environment.
The NPC Standing Committee said in the work report that it will also work on cyber-security law, which was reviewed by the top legislature for the first time in June last year.