China sees forex reserves decline by US$87.2 bln
Shanghai Daily, December 8, 2015

Adjust font size: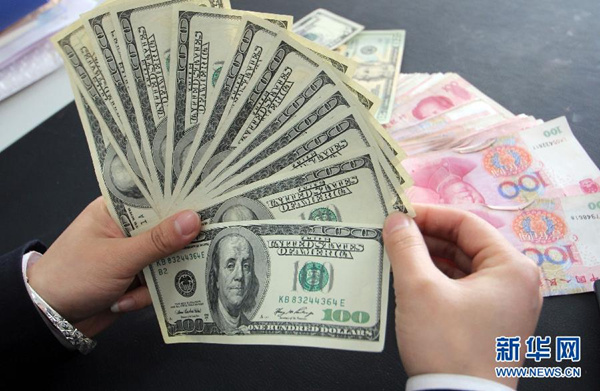 China's foreign exchange reserves, the world's largest, fell by US$87.2 billion in November to US$3.44 trillion. [Photo/Xinhua]
China's  foreign exchange reserves, the world's largest, fell by US$87.2 billion in November to US$3.44 trillion, central bank data showed yesterday, the lowest level since February 2013 and the third largest monthly drop on record.
Analysts blamed the fall partly on the dollar's rally during November, which reduced the value of non-dollar reserves, and partly on China's central bank selling dollars to support the yuan.
The onshore yuan is down over 3 percent so far this year, and remains under pressure as investors expect US interest rates to be raised for the first time in around a decade later this month.
The fall in foreign exchange reserves was the biggest since a record monthly drop of US$93.9 billion in August. China's foreign exchange reserves have fallen for the last five quarters and posted a record quarterly drop in the third quarter.
"The pick-up in capital outflows appears to have been predominately driven by increased expectations for renminbi (yuan) depreciation," Julian Evans-Pritchard at Capital Economics said in a note.
"A rise in offshore interest rates due to the increased likelihood of a December Fed rate hike will also have added to outflow pressures."
China's surprise devaluation of the yuan on August 11 fueled capital outflows on fears the world's second-largest economy might be slowing more sharply than thought, and on worries of a possible interest rate rise by the US Federal Reserve.
The yuan's depreciation has been even more marked in the offshore market, where it has lost over 4 percent this year.
Trading at 6.47 per yuan dollar, the offshore rate is at its widest discount to the onshore closing rate since September, indicating enduring bearishness.
Zhou Hao, economist at Commerzbank in Singapore, wrote in a research note that the Peoples Bank of China has switched strategies to manage a softening to the yuan-dollar rate instead of trying to halt it completely.
"It seems that China's central bank has changed its strategy in market intervention," wrote Zhou.
"Recall what happened in August and September: USD-CNY was stable despite soaring trading volumes, as the central bank sold USD aggressively to safeguard its currency.
"Afterwards, USD-CNY trading volume illustrates a clear downward trend since September, and CNY gradually weakens in tandem. The difference shows that a 'managed depreciation' in CNY is acceptable from Chinese authorities' perspective."
The PBOC has repeatedly said it sees no reason for the yuan to depreciate further.
The value of China's gold reserves was US$59.52 billion at the end of November, down from US$63.26 billion at the end of October, the PBOC said on its website.
China's International Monetary Fund reserve position was at US$4.60 billion, down from US$4.64 billion the previous month. It held US$10.18 billion of IMF Special Drawing Rights at the end of last month, down from US$10.36 billion at the end of October.