Negative Consequences of Wildlife Tourism
chinagate.cn, October 30, 2015

Adjust font size: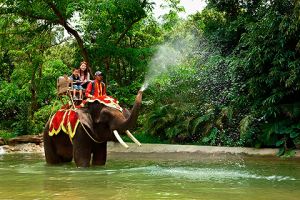 Up to 4 million tourists who visit non-zoo tourist attractions involving wildlife are likely to be contributing to large-scale animal welfare abuses and declines in species' conservation status – and are typically unaware of their impacts. These are the conclusions of an Oxford University study published on the 21st October in the journal PLOS ONE.
This study is the first to conduct an in-depth review of the impacts of the wildlife tourism industry globally.
The researchers found 48 types of wildlife tourist attraction (representing thousands of individual institutions), ranging from poorly-attended street performances like snake charming, bear dancing and macaque shows, to large, established attractions such as dolphinaria and tiger interactions, which have tens of thousands of visitors every year. They then audited 24 types of wildlife tourist attraction in detail, collectively visited by 3.6–6 million tourists per year. They concluded that:
• Eighteen types (including tiger interactions, lion encounters, dolphinaria, civet coffee farms and elephant parks) negatively affected the welfare of, collectively, 230,000–550,000 individual animals.
• Fourteen types involved 120,000 – 340,000 animals which, due to the way in which they were sourced, lowered the conservation status of their wild populations.
• By comparison, only six types of attraction, involving 1,500 - 13,000 animals, were judged likely to have net positive effects on conservation and welfare – and all of these were wildlife sanctuaries.
• These findings mean that 2-4 million tourists per year financially support, through patronage, institutions likely to have negative impacts on welfare and/or conservation.
You might expect that visits to these attractions left tourists with a bitter aftertaste. To a limited extent this was true. The team examined feedback for wildlife tourist attractions left on TripAdvisor and found that attractions with worse welfare received more negative feedback than ones with better welfare. However even for the attractions that scored lowest on welfare, typically 80% of the feedback was positive.
Lead researcher Tom Moorhouse says, "People trust TripAdvisor, and if an attraction gets positive reviews, that encourages more folks to go to it. So it's a real problem that poor welfare doesn't result in fewer tourists – because it means that tourist feedback isn't enough to regulate welfare standards in wildlife attractions."
David Macdonald, WildCRU's Director, said, "How sad it is that tourists, often no doubt lured in as a result of a well-intentioned interest in animals, thereby support attractions that not only keep wild animals in bad conditions, but damage their conservation". He added, "That double whammy could be rectified by tougher regulation, better enforcement and by following our rule of thumb: avoid any wildlife attraction that scores under 80% on TripAdvisor."
Tom Moorhouse explained: "Wildlife tourist attractions with TripAdvisor scores of 80% or less are likely to have particularly poor animal welfare. And in general tourists wishing to travel responsibly should pay close attention to the negative reviews." Neil D'Cruze, Head of Research at World Animal Protection, added, "Some of the most concerning types of wildlife attractions, such as elephant rides, received overwhelmingly positive reviews from tourists. There is a great opportunity for TripAdvisor to improve its service to the visiting public by including in its evaluations a score for animal welfare and conservation."