Singer Han Hong concerned about sexually abused girls
china.org.cn / chinagate.cn by Zhang Rui, March 4, 2015

Adjust font size: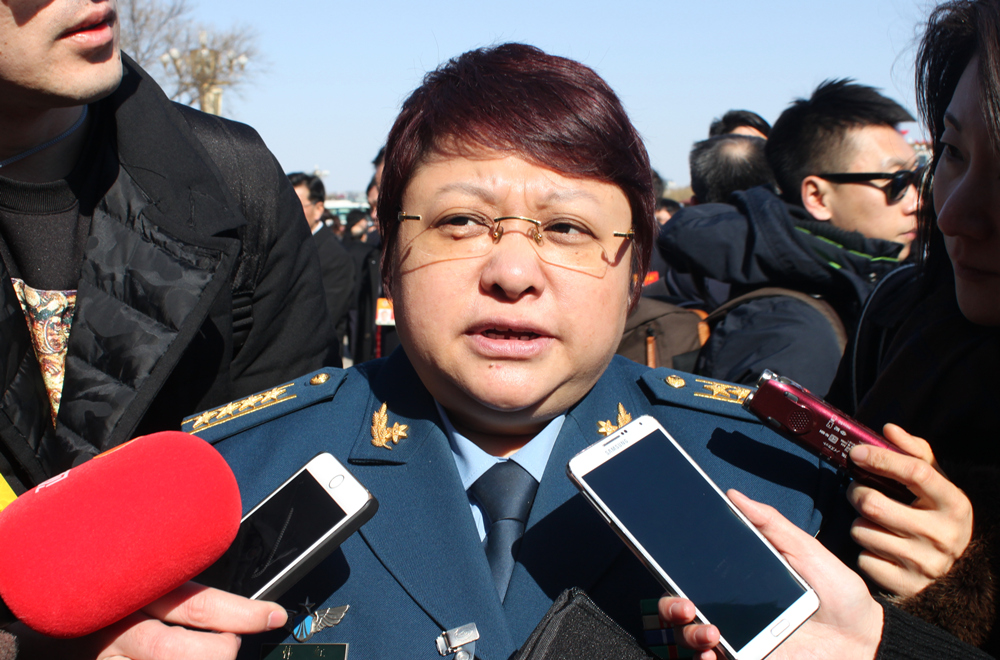 Singer Han Hong, a member of the Chinese People's Political Consultative Conference, talks to reporters outside the Great Hall of the People in Beijing on March 3, 2015. [Photo: Zhang Rui / China.org.cn]
Chinese singer Han Hong, a member of the Chinese People's Political Consultative Conference (CPPCC) and a passionate philanthropist, said on Tuesday in Beijing she is concerned about girls left behind in the countryside who have a higher risk of being sexually abused.
Han is attending the third session of the 12th National Committee of the Chinese People's Political Consultative Conference, the country's top political advisory body, which opened Tuesday in Beijing and will continue over the next 10 days. A total of 2,153 members of the CPPCC National Committee will discuss major issues concerning the country's development during the annual session.
Han said that one of her proposals for this year is about the so-called "left-behind kids." She has been preparing this proposal for six consecutive years since 2009, but the proposal is still in development.
"I feel that the situation has not improved," she said.
As China speeds up urbanization, many parents in rural areas head to big cities to work in order to earn more money. Many are leaving their children behind in the countryside with their grandparents or other relatives. Over the next 10 to 20 years, there will be more migrant workers, which means more left-behind children. An urgent problem related to this trend is that more and more girls have suffered or are suffering sexual abuse. The risks are always there, Han said.
Though left-behind kids have gradually become a major issue and social concern, China has still not made any national-level laws, regulations or policies regarding care for these children. Only a handful of provinces such as Hubei, Sichuan, and Jiangxi have issued local government circulars concerning the issue.
Han has been researching and doing charity work on this issue for several years. She has used her fame and influence to help these left-behind children and has also brought other celebrity friends to her cause.
In addition to her proposal on child protection, Han is presenting an additional proposal about how to combat smog at the CPPCC annual session.