More poverty reduction efforts needed: Xi
Xinhua, January 22, 2015

Adjust font size:

In his first domestic inspection tour in 2015, Chinese President Xi Jinping sought to rally support for a "tough battle" against poverty, and to speed up growth in the country's relatively underdeveloped ethnic regions.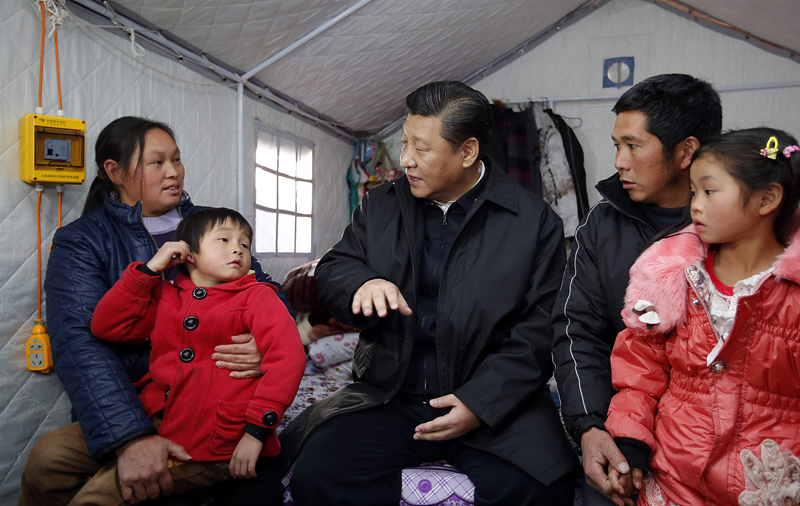 Chinese President Xi Jinping (C) pays a visit to a family affected by the 6.5 magnitude earthquake in August last year in Ganjiazhai Village, Ludian County, southwest China's Yunnan Province on Jan 19, 2015. A temporary camp was set up in the village for those displaced by the quake. [Photo: Xinhua]
Speaking in an inspection in southwest China's Yunnan Province that lasted from Jan. 19 to 21, Xi said authorities must accelerate poverty elimination efforts to support the building of a moderately prosperous country.
"The 'new normal' has not changed China's international status as the world's largest developing country," Xi said, referring to the current pace of economic development.
"[There is] only five to six years left for us to complete the building of a moderately prosperous society in all respects, time will not wait for us," Xi said, highlighting that poverty relief was the most arduous task.
Authorities must expedite poverty relief work -- with more action than words, he urged, adding that measures must be more effective.
Ludian County, which experienced a 6.5 magnitude earthquake in August last year, was the first on the president's inspection agenda.
While in Longtoushan Town, the epicenter of the quake, he reviewed post-disaster reconstruction efforts and advised that the buildings must be able to withstand a quake of a similar magnitude and above.
The people staying in Ganjiazhai Village, where a temporary camp was set up for those displaced by the quake, warmly welcomed Xi. He greeted the crowd and inspected inside the tents to check the quality and thickness of their quilts.
"The disaster destroyed your homes, but the [Communist] Party [of China]and the government will help you build more beautiful ones," Xi said.
Xi also promised the people that their standard of living would be improved, and the government would continue to increase investment in rural areas and help to raise farmers' incomes.
Experts said Xi's Yunnan visit shows the central leadership is increasing its focus on disadvantaged groups in society.
"This has become a key principle of the leadership's efforts to improve the lives of the people of China," said Xie Chunfei, a professor with the Party School of the CPC Central Committee.
Despite being the world's second largest economy, China still has 92 million people who still live in poverty.
"In this sense, President Xi's Yunnan visit is of immense practical significance," said Xie, as it puts the issue under the spotlight, and could spur more social welfare system measures.
Meanwhile, Xi went on to comment that economic development should not come at the cost of the environment, stressing that China should protect its environment in the same way as one "values his own eyes."
The president told provincial officials that environmental protection should be high on the country's agenda.
"We should [...] treat the environment in the same way as one treats his own life," the president said, adding that the country should look at the whole picture, at it is the long-term interests and the interests of all the people.
Xi offered four pieces of environmental advice.
"We cannot afford to be penny wise and pound foolish, nor catch one and lose another," he said. "We should also not live beyond our means or be more interested in the here and now, while ignoring our long-term interests."
NO ONE TO BE LEFT BEHIND
Xi also called for efforts to facilitate the economic and social development in ethnic regions to complete the building of a moderately prosperous society in all respects by 2020.
"No ethnic groups will be left behind in the drive to complete the building of a moderately prosperous society by 2020," said Xi, when meeting with officials and residents of Drung-Nu Autonomous County of Gongshan Tuesday in Kunming, capital of Yunnan.
Drung ethnic minority has a population of about 6,900, making it one of the smallest ethnic minorities in China.
"Though the ethnic group has a small population, it is equal with other ethnic groups in the Chinese nation," Xi said.
During his tour, Xi urged the province, which is home to many of China's 56 ethnic groups, to be a model region of ethnic solidarity in the nation.
Calling ethnic solidarity a lifeline of people of all ethnic groups, Xi said the system of regional ethnic autonomy should be upheld and enhanced and the education on ethnic solidarity should be promoted.
Xi added it should be made a strategic task to build a spiritual home that is shared by all the ethnic groups.