2015 may see some reform breakthroughs
China Daily by Chi Fulin, January 6, 2015

Adjust font size: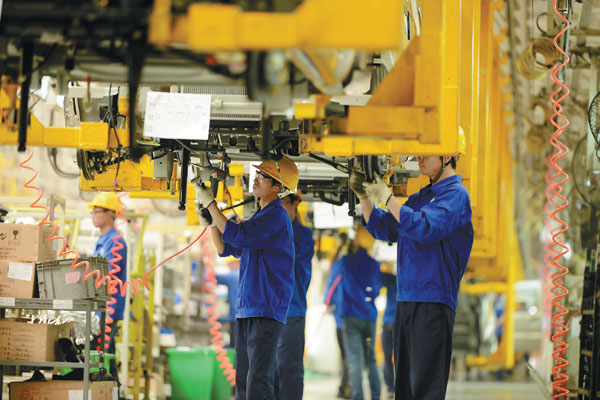 Employees at an automobile factory fine-tune a vehicle in Qingdao, Shandong province. China's GDP grew by 7.3 percent in the third quarter of 2014. [Provided to China Daily]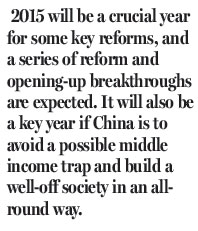 The year 2015, the last year of the 12th Five-Year Plan (2011-15) and also the starting year for comprehensively advancing the governance of the nation by rule of law, is expected to witness the government's intensified efforts to push forward overall and deepened reforms.
As China's economy is adapting to a new normal, which is characterized by slower growth but higher quality, and in the process of deeper integration between its growth transition and reforms, the government needs to bravely confront deep-rooted contradictions. It should push for deep-water reforms in 2015 and in the years ahead, in a bid to win the final and tougher stages of the battle to overcome the obstacles that stand in the way of its economic transformation, upgrading and innovation driven growth. Only by doing this, will it be able to firmly take the initiative in this process.
The country should follow the trend of its economic growth, transformation and reforms becoming mutually intertwined, in an effort to forge a balanced, coordinated and sustainable new normal for its economic growth. Currently, China's economic transformation and upgrading are at a historical juncture that has witnessed increased restraints in both time and space. This highlights the need to race against time to push forward such initiatives. While making its macroeconomic policy adjustments, the country should not be influenced by short-term fluctuations and should look at economic development with a long-term perspective. It should release a new driving force for its economic growth through deepened reforms that lubricate a balanced, coordinated and sustainable new normal, one that is built on economic structural adjustments, innovations as well as breakthroughs in key reforms.
To adapt itself to such a new normal and guide its healthy progress, China should strive to achieve new breakthroughs in its push for comprehensive and deepened reform initiatives. 2015 will be a crucial year for some key reforms, and a series of reform and opening-up breakthroughs are expected.
It is anticipated that some significant progress will be achieved this year in reform of the government's administrative examination and approval system, including the gradual and final opening of the negative list and the lists of responsibilities and powers.
Some breakthroughs can also be expected in the country's bid to reform the market, such as how to push the market to play a decisive role in its resources distribution and how to push for the opening of its service sector. An important breakthrough is also likely to be achieved in the reform of State-owned enterprises and enterprises with a mixed ownership. Besides, headway can be expected in the country's structural reforms suitable for its proactive fiscal and sound monetary policies, including its fiscal, tax and financial systematic reforms. At the same time, new progresses will likely be achieved in pushing for a new open economic pattern based on bilateral and multilateral trade.
2015 will also witness the final drafting of the 13th Five-Year Plan (2016-20) for national development, which is expected to be dominated by economic transformation and upgrading. It will also be a key year if China is to avoid a possible middle income trap and build a well-off society in an all-round way.
The author is president of the China Institute of Reform and Development and an adviser to the central government.