London to be key biz destination for China banks
China Daily, January 5, 2015

Adjust font size: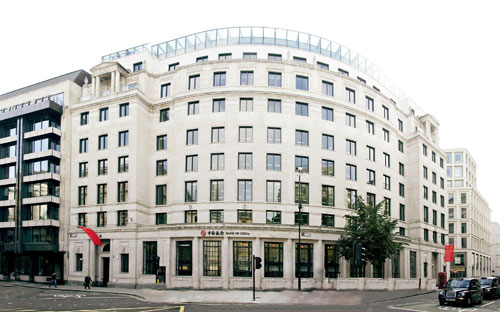 Bank of China's London headquarter. [File photo]
Chinese financial institutions are making great strides in London, a place where they can compete and learn alongside the best of their respective industries in their internationalization process, says Maggie Zhao, a partner in the London office of Clifford Chance LLP, a global law firm.
One of the prime movers in this process is the Chinese government's willingness to support liberalization of China's financial industry and the internationalization of Chinese banks and other financial institutions, Zhao says.
Another is the United Kingdom's open and welcoming attitude toward Chinese investment, she says.
"As China's financial services sector is maturing and internationalizing, there comes a time when Chinese financial institutions are ready to grow markedly and compete in international markets," Zhao says.
She says the internationalization of the renminbi and London's eagerness to remain as a leading offshore renminbi center have also created great opportunities for Chinese banks to facilitate renminbi trade and investment flows, and to develop new renminbi products there.
One key development is the granting of a branch license in London to Industrial and Commercial Bank of China this year. ICBC previously operated in the United Kingdom as a subsidiary, and had stricter capital requirements than those for a branch. With the new branch license, ICBC will now have greater lending and financing capacity there.
This is a milestone because in recent years the UK regulator has refused to let foreign banks open branches, which would have had lending and financing capacity proportional to the parent company's balance sheet.
Subsidiaries, in contrast, are subject to the strict capital requirements that apply to local banks in the UK. So in most cases the lending and financing capacity is proportional to the balance sheet of the subsidiary itself. Before ICBC, Bank of China was the only Chinese bank that had a branch license, which was granted in 1946.
The concerns expressed by Chinese lenders since 2012 on the issue caught the attention of the UK government, and those concerns were backed by the City of London.
Last year the Prudential Regulation Authority said foreign banks would be allowed to apply for a branch license, although only for wholesale business. In September, ICBC received its branch license, and several other Chinese banks with subsidiaries in the UK have also applied for theirs.
Zhao says ICBC's achievement is encouraging for other Chinese banks and the whole industry, but it also creates a new challenge because ICBC's newfound freedom to carry out additional activities puts it in greater competition with other top banks in London.
"Banks like ICBC with a branch license now compete full scale with local banks, and as they are only beginning to do so, they have a lot to learn," Zhao says.
One key way for Chinese banks to expand overseas is through acquisition of strategically important assets and operations from other financial institutions, Zhao says. One example is ICBC's acquisition of Standard Bank's commodities and currencies arm, which gave it access to a strong emerging market network especially in Africa and South America.
A lot of these acquisitions are channeled through London, an important financial center and a center of innovative ideas, she says.
"Often acquisitions of this sort give Chinese companies access to knowledge, resources and networks that they will not be able to access through organic growth," she says.
Another milestone for China-UK financial cooperation that gave the market great confidence is the issuance of a renminbi sovereign bond by the UK government, the first foreign government to issue a renminbi bond, she says.
"The dim sum bond issued by the UK government ... reflects the strong policy support for China's currency liberalization and sends a strong message to the outside world about opportunities in offshore renminbi activities."
Zhao says she expects Chinese financial institutions to increasingly expand into the UK market as the Chinese economy's focus shifts from manufacturing-driven to service-based growth.
"China has had strong cooperation with Germany for many years based on the importance of manufacturing for both countries, but as the Chinese government is now focusing on internationalizing and liberalizing its capital market, London has the natural advantage in helping China in this endeavor," Zhao says.
She says Chinese financial institutions are also becoming increasingly sophisticated and diversified, and this trend will continue.
"Chinese banks expanded overseas initially to support Chinese businesses, but now they have gone beyond that stage to become sophisticated and competitive players on the global financial stage," Zhao says.
She says Chinese banks' client base is diversified as they now work with many local businesses, and their product offerings are increasingly diversified. At the same time, they have also maintained their comparative advantages accumulated in both China and globally, such as trade finance capabilities in manufacturing, utilities and infrastructure.