Private bank makes first loan
China Daily, January 5, 2015

Adjust font size: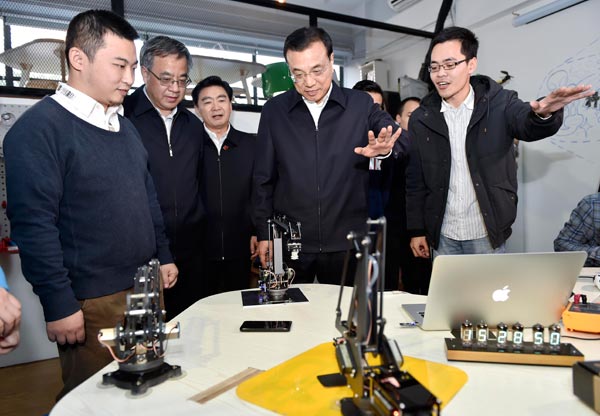 Premier Li Keqiang tried a remote control mechanical arm in Chaihuo Makerspace, an innovation platform in Shenzhen, Guangdong province, on Sunday. LIU ZHEN/CHINA NEWS SERVICE
Li says govt will offer good environment for sector's growth
Premier Li Keqiang pressed the 'enter' button on a computer on Sunday to finalize the first loan by WeBank, a new online bank and one of five privately funded banks given approval to open in China.
During a visit to China's first Internet-based bank, Li said he placed high hopes on online competition in the banking sector to cut costs and force State-owned financial giants to change outdated business models.
"Internet-based banking is a significant step in China's financial reform," Li said, stressing that the government will provide a good environment for the development of private and online banks.
The loan approved by Li during the bank's soft launch was for 35,000 yuan ($5,600) to Xu Jun, a truck driver in Shenzhen.
According to their agreement, Xu will repay the principal and interest, an annual rate of 7.5 percent, in six months.
Gu Min, chairman of the bank, said the 7.5 percent interest rate is a result of analysis that included the driver's gender, age, education, marital status and social network.
WeBank has recruited about 450 staff members, but more than 60 percent are on the technology side, said Gu. The bank will be based on the Internet and have no physical branches, which can reduce operational costs to 10 percent of the industrial average and cut lending costs.
"The bank will focus on financial services including deposit and loan services to individual consumers as well as micro-sized and small enterprises, rather than chasing big companies and people with high assets," Gu said.
"We aim to cover 30 million small businesses and 300 million individual consumers in the upcoming decade."
Five banks entirely funded by private capital were given the green light by authorities in 2014. Previously, China Minsheng Bank, founded in 1996 in Beijing, was the country's sole national privately funded bank.
Tencent Holdings, which operates China's most popular online chatting service, is the largest shareholder of WeBank. Other major shareholders include Shenzhen Baiyeyuan Investment and Shenzhen Liye Group.
The bank, registered in the Qianhai Shenzhen-Hong Kong Modern Service Industry Cooperation Zone, is also expected to expand the service in the liberalization of the renminbi with neighboring Hong Kong.
It plans to hold a grand opening in April.
Jonathan Woetzel, a researcher from Shanghai-based McKinsey Global Institute, said in an article that companies emerging from the technology side have the advantages of agility and deep technical talent, and they are quickly building the financial capabilities to compete head-to-head with traditional financial institutions.
He said the better allocation of capital to small and medium-sized enterprises could add 1 to 2 percentage points to China's overall GDP growth, creating up to 11 million jobs.