Tycoons bathe in wealth amid global turmoil
China Daily, December 31, 2014

Adjust font size: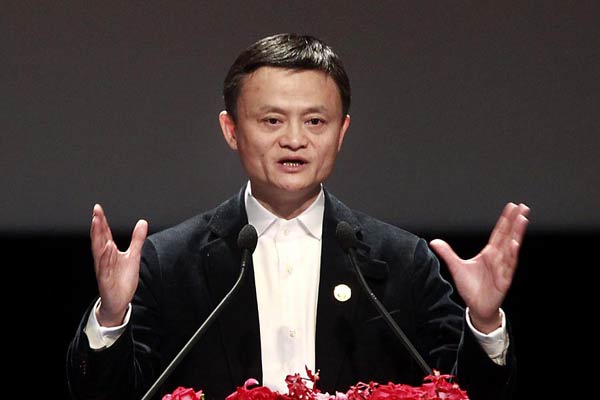 Alibaba Group Executive Chairman Jack Ma delivers a keynote speech during the Cross-Straits CEO Summit in Taipei Dec 15, 2014. [Photo/Agencies]
The richest people on Earth got richer in 2014, adding $92 billion to their collective fortune in the face of falling energy prices and geopolitical turmoil.
The net worth of the world's 400 wealthiest billionaires on Monday stood at $4.1 trillion, according to the Bloomberg Billionaires Index, a daily ranking of the world's richest.
The biggest gainer was Jack Ma, the co-founder of Alibaba Group Holding Ltd, China's biggest e-commerce company. Ma, a former English teacher who started the Hangzhou-based company in his apartment in 1999, added $25.1 billion to his fortune, riding a 56 percent surge in the company's shares since its September initial public offering. Ma, 50, briefly passed Li Ka-shing as Asia's richest person.
"I am nothing but happy when young people from China do well," Li, 86, said through his spokeswoman in Hong Kong.
China's 10 richest people have added almost $48 billion combined year-to-date. Following Ma's $25.1 billion gain, technology entrepreneurs Richard Liu of online retailer JD.com Inc and Robin Li of Baidu Inc added a combined $8 billion.
The title of Asia's richest person could be challenged by Wang Jianlin, whose Dalian Wanda Group Co staged an initial public offering of its commercial properties division this month. An IPO for Wanda Cinema Line Co is planned for early 2015. Wang has a net worth of $25.3 billion, gaining $12.8 billion during the year.
Alibaba's surge minted at least three new billionaires this year, including Simon Xie, an Alibaba co-founder and the second-biggest shareholder of the finance affiliate that owns Alipay. Xie, 44, owns 9.7 percent of Zhejiang Ant Small &Micro Financial Services Group Co, the parent of Alipay, according to company filings obtained by Bloomberg News.
Small &Micro CEO Lucy Peng and Jonathan Lu, CEO of Alibaba, each controls almost 4 percent in Small &Micro Financial, according to filings submitted by the company in Hangzhou. They also both own less than 1 percent of Alibaba, which made them new 2014 billionaires.
Two of the year's other biggest gainers were Warren Buffett and Mark Zuckerberg of the United States.
Buffett, the chairman of Berkshire Hathaway Inc, added $13.7 billion to his net worth after the Omaha, Nebraska-based company soared 28 percent as the dozens of operating businesses the 84-year-old chairman bought over the past five decades churned out record profit.
Buffett passed Mexican telecommunications billionaire Carlos Slim on Dec 5 to become the world's second-richest person. Bill Gates, the co-founder of Microsoft Corp, was up $9.1 billion during the year. The 59-year-old remains the world's richest person with an $87.6 billion fortune.
Zuckerberg, the hoodie-wearing chief executive officer of the world's largest social-networking company, gained $10.6 billion as the Menlo Park, California-based business rose to a record on Dec 22.
Sheldon Adelson, the gambling mogul who controls Las Vegas Sands Corp, the world's largest casino company, fell $8.7 billion as the Las Vegas-based company dropped 25 percent.
Macao's casinos are looking at their first down year in revenue since the market was opened to foreign operators in 2002. More than half of the company's 2013 $13.8 billion in revenue comes from Macao.
Adelson's decline was followed by Jeffrey Bezos, chairman of Amazon.com Inc. The 50-year-old had $7.2 billion trimmed from his fortune as the Seattle-based company lost ground in the cloud computing market to crosstown competitor Microsoft Corp.