FTA talks reach across the Gulf
China Daily, December 30, 2014

Adjust font size: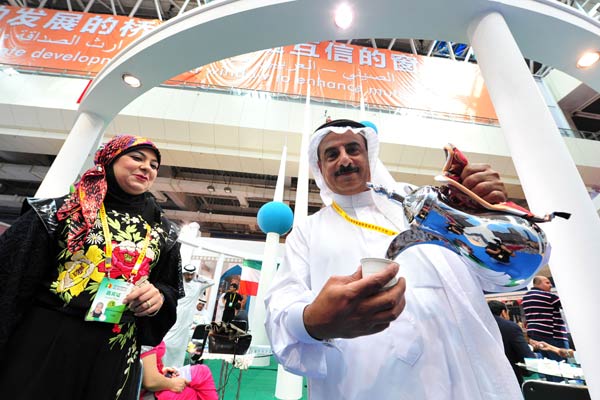 Arab customers check out products at a trade expo in Yinchuan, Ningxia Hui autonomous region. China plans to accelerate negotiations on a free trade agreement with GCC. [Photo/Xinhua]
China is to accelerate the negotiation of a free trade agreement with the Gulf Cooperation Council next year, and launch FTA talks with Israel.
Zhang Shaogang, director-general of the department of international trade and economic affairs at the Ministry of Commerce, said the expected FTA with members of the GCC can help China buy energy products from the region at lower prices, and pave the way for Chinese companies to explore other markets in the Middle East.
The GCC is a political and economic union of six Arab states that border the Persian Gulf-Bahrain, Kuwait, Oman, Qatar, Saudi Arabia and the United Arab Emirates-some of which are considered among the world's top fossil fuel-exporting nations.
"GCC countries consider China as a major market for their petrochemical products, and this (FTA) will assist those nations in their industrial development," Zhang said during the ministry's annual meeting in Beijing.
The two sides are now expected to exchange views on key FTA issues such as goods trade conditions, rules of origin, technical barriers to trade, and economic and technological cooperation, said Zhang.
China and the GCC first announced the launch of China-GCC Free Trade Agreement negotiations in 2004. The two parties have held five rounds of talks and have reached agreements on the majority of issues concerning goods trade. Negotiations on service trade are also ongoing.
Business ties between China and GCC members have developed rapidly in recent years. China's trading volume with the union amounted to $177 billion in 2013, up 14 percent on a year-on-year basis.
China is expected to become the largest export market for the GCC members by 2020, according to a study by the Economist Intelligence Unit and Dubai-based Falcon and Associates.
Gu Xuebin, vice-president of the Beijing-based Chinese Academy of International Trade and Economic Cooperation, said GCC member countries have also been keen to support the Chinese initiatives of building the Silk Road Economic Belt and 21st Century Maritime Silk Road, adding the establishment of a free trade zone would "strengthen multilateral cooperation on agriculture, energy, tourism and culture".
Gu said the GCC was expected to play an active role in shaping its partnership with China, rather than just being recipients of Chinese investment and products.
China mainly ships construction machinery, manufacturing equipment, steel, electronic products, textiles, garments and household appliances to GCC nations. Chinese-made passenger vehicles have also become popular in the region.
In addition to crude oil, petrochemicals, fertilizer and other products, GCC exports to China include a variety of goods such as marble, olive oil and sesame products.
Meanwhile, Zhang said the ministry has concluded a feasibility study on launching FTA talks with Israel, after relations between the two nations deepened across a variety of sectors, with a view to an agreement to be signed in the next few years.
Zhao Zhongxiu, a trade professor at the University of International Business and Economics in Beijing, said: "China is exporting consumer goods in exchange for Israel's high-tech products. Most of their imports are reasonably complementary, and do not represent any direct competition."
China finalized negotiations on two landmark free trade agreements this year with Australia and South Korea. The Ministry of Commerce is expected to launch other FTA talks with South Pacific island countries such as Fiji, Vanuatu, Papua New Guinea and Tonga.