10-hour queue for study room spots
China Daily, December 30, 2014

Adjust font size:

Grab a stool and some snacks and queue in the winter morning sun. What for? Well, it isn't for a train ticket during the Spring Festival, but rather, for an admission ticket to a study room on campus.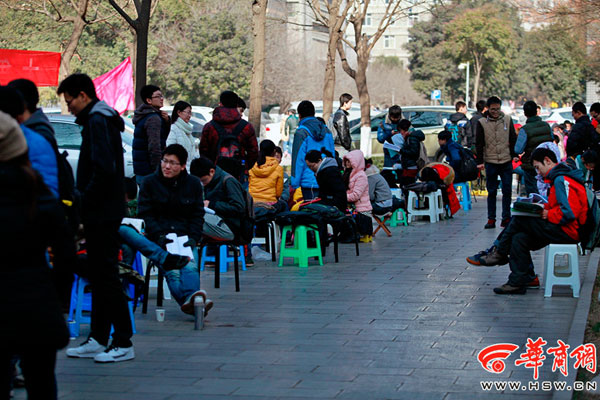 Students queue to get a seat in study rooms in a university. [Photo/hsw.cn]
More than 200 students queued in front of an academic building, some waiting for more than 10 hours, to get a designated seat in the study rooms in a bid to prepare for the 2016 National Entrance Examination for Postgraduates (NEEP), in Xi'an University of Architecture and Technology, Northwest China's Shaanxi province on Dec 28.
The school previously issued a notification that the usage rights for 281 seats in two study rooms would be allocated for the next year to students at 4:30 pm on Monday, a move to avoid disputes in using study rooms.
About 1.64 million people registered for the 2015 NEEP, China's equivalent of the Graduate Record Examinations used in the United States.