Tablet sales set to hit the buffers
China Daily, December 29, 2014

Adjust font size: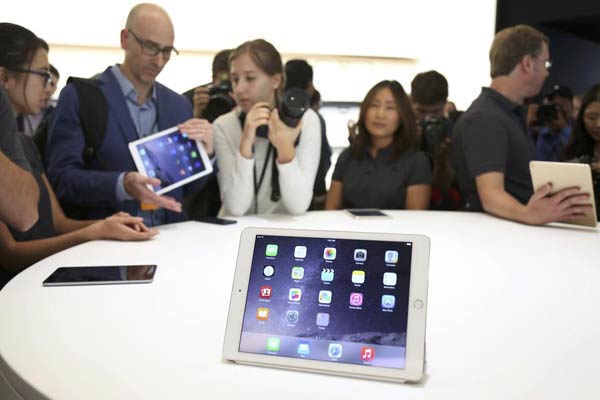 A new iPad is seen follownig a presentation at Apple headquarters in Cupertino, California Oct 16, 2014.[Photo/Agencies]
Global tablet computer sales are expected to slow for the first time in history this year, overtaken by sales of ever-more versatile smartphones, according to a slew of figures being released.
According to the forecast by research firm International Data Corporation, the tablet market is expected to show sales growth of 7.2 percent for the full year, against 52.5 percent in 2013. At the core of the slowdown is the once iconic Apple iPad, with its shipments expected to show their first ever decline in numbers.
Separate numbers released by multinational technology consultancy Gartner Inc estimate tablet sales worldwide will hit 229 million units in 2014, an 11 percent rise on a year earlier but a shadow of the annual 55 percent growth recorded in December 2013.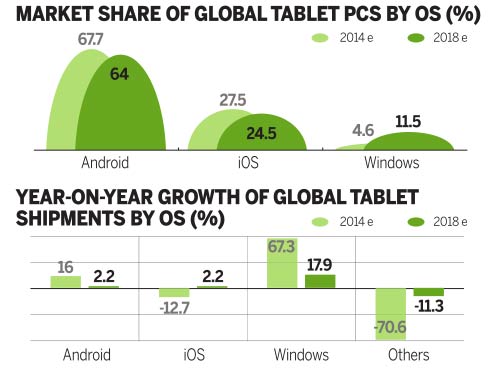 In China, a study by Beijing-based Internet consultancy Enfodesk shows that 1.56 million tablets were sold over the first three quarters of 2014, down 8.6 percent compared to the figure collected for the second quarter.
Experts say the most influential development in the sector has been the introduction of larger-screen smartphones, the most notable examples being Apple's iPhone 6 and iPhone 6 Plus, both of which were launched in September 2014.
Thanks to its "save-for-later" reading and video application, Pocket, users who have upgraded to an iPhone 6 are now reported to be spending an average 72 percent of their reading time on their smartphones this year, a massive 55 percent increase in the time spent before the change. That jumps again to 80 percent for those using the iPhone 6 Plus. The latest figures suggest just 28 percent of electronic device users' "reading time" is now being spent on tablets.
IDC experts say, however, that the rapid decline in tablet sales is no great surprise, given that their life spans are actually lengthening.
"In the early days of the tablet market, device life cycles were expected to resemble those of smartphones, with replacement occurring every two to three years," says Ryan Reith, program director with IDC's Worldwide Quarterly Mobile Device Trackers.
"But what has played out instead is that many tablet owners are holding onto their devices for more than three years and in some instances more than four.
"We believe the two major drivers for these longer than expected tablet lifecycles are legacy software support for older products, especially within iOS, and the increased use of smartphones for a variety of other computing tasks", making tablet upgrades less necessary as users stay on the faster treadmill of phone upgrades.
Ranjit Atwal, research director at Gartner, adds that if customers do decide to upgrade, fewer tablet users are now replacing their tablets with another, favoring instead "hybrid or two-in-one devices", which have increased their share of what experts call the ultramobile premium market to 22 percent in 2014, which is expected to rise to 32 percent by 2018.
The tablet market has also stalled to some extent, says Yu Bin, a Nanjing-based Internet industry analyst, through a lack of creativity and new ideas, depriving it "of another overnight success such as that enjoyed by the iPad in 2010".
Yu thinks that since then, as companies started coming up with their own tablets, products have started looking pretty much the same, even with similar names, for example ASUS's Eee Pad, and HP's TouchPad.
"Very little invention in terms of hardware, software, marketing and content improvement has been introduced into the market other than on price," says Yu.
"As the products are not that attractive, consumers will become more rational and sales will drop.
"Having said all that, there still isn't any real tablet competitor to the iPad. Although Samsung has acted as a potential iPad killer at times, iPad sales still outperform any other brand worldwide, meaning there remains less pressure on Apple to come up with something unconventional," Yu says.