Uber hitches a ride into nation with Baidu's cash
China Daily, December 18, 2014

Adjust font size: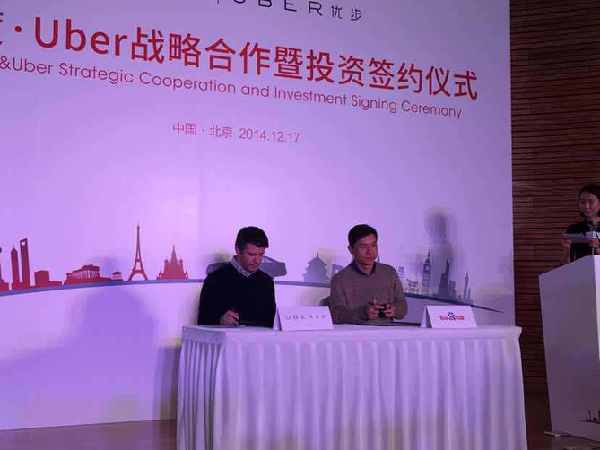 Uber CEO Travis Kalanick (L) and Baidu Inc Chairman and CEO Robin Li are seen at the Baidu and Uber strategic cooperation and investment signing ceremony at Baidu's headquarters in Beijing Dec 17, 2014. [File photo]
The record shows that most of the overseas Internet giants stumble in China no matter how big their names are in their home markets.
To increase the odds of success in China's huge and rapidly growing Internet market, Uber Technologies Inc has teamed up with Internet heavyweight Baidu Inc in a strategic cooperation that would help the United States-based company gain ground in the country's highly competitive car-hailing business.
The Beijing-based Baidu signed an agreement to buy a stake in Uber, which has a valuation of $40 billion. The exact amount of the investment was not released at the signing ceremony in Baidu's headquarters on Wednesday. However, previous media reports have indicated that it could be a capital injection of $600 million.
The deal between Baidu and Uber, which offers services in 230 cities worldwide but was not launched in China until February, is the latest marriage between a Chinese Internet giant and a car-hailing service provider.
Both of Baidu's rivals-Alibaba Group Holding Ltd and Tencent Holdings Ltd-have invested in the taxi-hailing business. Kuaidi Dache, which is backed by Alibaba, and Didi Dache, which is backed by Tencent, have dominated the Chinese market with a combined market share of more than 99 percent in the third quarter of the year, said a recent report from Internet consultancy Analysys International.
Despite the clear challenge from well-established rivals, Robin Li, chief executive officer of Baidu, said the Internet-enabled transportation market is still in a nascent stage in China.
"Baidu's goal in the mobile Internet era is to connect people with services. And Uber, which has reshaped the traditional transportation market in the West, can help us achieve that goal," said Li, adding Baidu will team up with Uber in technology innovation, online-to-offline expansion in China and global market expansion.
The matching point between Baidu and Uber in the car-hailing business lies in the mobile Baidu Map, a map application that has 70 percent of China's mobile map market, said Li. Apart from integrating into Baidu Map, the cooperation is expected to offer Uber some data generated by the large user base of Baidu, the No 1 search engine in the country.
Travis Kalanick, founder and chief executive officer of Uber, is confident about Uber's future in China. He said that Chinese consumers are huge adopters of the latest Internet trends, such as online-to-offline business, which allow people to pay online but have real life experience offline.
"Hundreds of millions of people open Baidu Map every day to plan their next journey. The cooperation brings our commitment to the China market to a whole new level," he said.
According to Kalanick, the growth momentum of Uber's business in China is faster than its overall business growth worldwide. Uber offers services in nine Chinese cities and most of them are first-tier cities in developed regions, while its Chinese competitors Didi Dache and Kuaidi Dache operate in more than 300 cities.
Both Baidu and Uber believe they can achieve a win-win result, but some analysts remain doubtful on whether the tie-up would help Uber make a breakthrough in China's highly competitive car-hailing sector.
Yin Jingxue, an analyst with the Beijing-based Analysys International, said it is clear that Uber can benefit from the traffic generated by the users of Baidu Map and Baidu, which lags behind its rivals in mobile payment, can use Uber to help users form the spending habit with Baidu Map.
"It is important for Baidu to establish its mobile map app as a place where people can shop and pay money. Car hailing is only one sector. As people get used to making payments with Baidu Map, it (Baidu) can anticipate more business," she said.
"For example, people can buy coupons on Baidu Map and dine at their local restaurants," Yin said, adding that the commercialization of mobile maps is still at an early stage in China. The success of the Uber cooperation is key for Baidu to turn its mobile map into a huge magnet for business in the mobile arena.
However, Uber, which has recently been hit by public relations debacles regarding its recruitment methods, driver screening and arguably sexist promotions, may find it difficult to reshape the local market even with Baidu's help, said Wang Xiaofeng, an analyst with multinational tech research firm Forrester Inc.
Cash-flush Tencent and Alibaba have invested a lot to help Didi and Kuaidi gain users. Since the beginning of this year, the two apps have offered a lot of rebates to attract people to book rides through their smartphones.
"Alibaba's Alipay and Tencent's WeChat, both of which have a huge user base and have established themselves in China as mobile payment systems, have the edge to expand into the car-hailing business," said Wang, adding Baidu does not have a star service or product in the mobile arena.
The competition between Uber and the local players is expected to be tough as Didi and Kuaidi, which started their taxi-hailing business recently, have climbed up the ladder to offer higher-end chauffeur service, just like Uber does.
For example, Didi, which drew a $700 million investment from Tencent and other investors earlier this month, has been actively offering coupons to encourage people to use its higher-end chauffeur service.
Kalanick also had to contend with queries on the higher costs for Uber services in China. But he said that Uber wants to make sure that it can connect riders with the highest quality and at the lowest cost. "Our offerings range from the Uber Black to People Uber, and we have different price points for customers to choose from," he said.
Yin from Analysys International said that as long as Uber can provide the best experience in China, people will be happy to pay more. "But the most important thing for further development in China is marketing. Most of the Uber users in China are still expatriates in the country," she said.
Phoenix Zhang, a white-collar worker from Beijing who uses Didi Dache daily to book cars to commute from home to work, said she has never heard of Uber.
"With the coupons, a ride home via a luxury car such as a BMW can be cheaper than taking a taxi. Even without the coupon, I still want to use the app to book a taxi. It is too cold in Beijing, I can't stand waiting in the wind and waiting for a taxi to show up," she said.