Made-at-home car proves a big Internet hit
Shanghai Daily, December 18, 2014

Adjust font size:

Shanghai-based Xu Zhiyun is an Internet celebrity of sorts.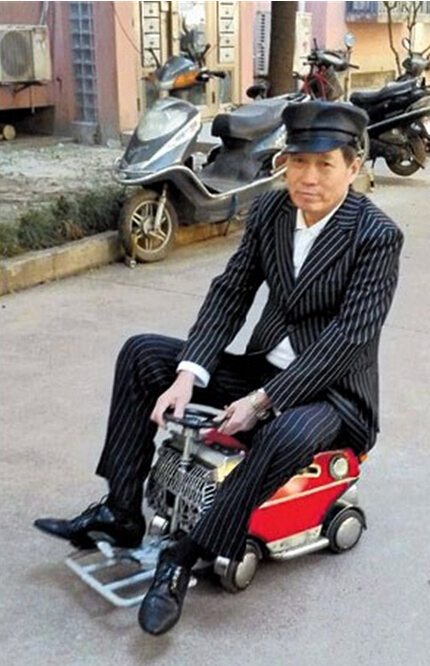 Xu Zhiyun enjoys a ride on his motorized mini car in his community in Baoshan District yesterday.
The 59-year-old chauffeur is a big hit after pictures and videos of his creation — a home-made motorized mini-car — went viral on the Internet.
"I'm a weirdo. I am not one of those drivers who play cards or video games in their spare time," Xu told Shanghai Daily when this reporter visited him at his apartment in Baoshan District on Wednesday.
The buggy, which he claimed to be the world's smallest car, was parked in a corner of the living room and smelt of gas as one approached it.
It was roughly 60 centimeters in length, 35cm in width and 40cm in height — "smaller than a large car tire," Xu said.
The mini car had all the basic auto paraphernalia — an engine, an accelerator, brakes and four gears. It was also equipped with front and rear lights, indicator lights, klaxon devices and sound system.
"Everything is there except air-conditioning," Xu said.
Xu said he bought the engine but most of the other equipment were made from recycled materials.
He just spent 1,500 yuan (US$242) on the entire thing. The body shell of the car was made from the trunk of a discarded motorized tricycle, and the mud guards were made from steel pans.
It can run up to 20 kilometers per hour, according to Xu.
Xu said he worked on the car for two years, spending an average two to three hours per day.
"I usually worked in the afternoons when there were few neighbors and before my wife came home from work because she doesn't like the mess," Xu said, adding that he spent more time thinking about the design than building the car.
Xu said he was only a junior high school graduate and was never formally trained in mechanics.
"My creativity is my diploma," Xu said.
Zhang Hailei, a car engineer, congratulated him for "having managed to fit in all the functions in such a compact car on a limited budget."
"To build a car entirely on your own is very challenging and requires highly developed skills," Zhang said.
Xu, who had previously worked at a toy factory and a foldable bicycle company, had earlier pieced together a car for his 2-year-old son. He also built a car with a comfortable chair for his father that he said had "the world's best suspension system."
Xu's son, Xu Zhonghao, said the latest invention represented the pinnacle of his father's innovation. "Many of his previous creations did not involve ground-breaking technologies, but I'm especially proud of him for this one because it was highly demanding," a proud Xu Zhonghao said of his father.