Misdiagnosed woman spends 2.6 mln yuan on treatment
China Daily, December 17, 2014

Adjust font size:

A woman spent 2.6 million yuan ($ 420,032) on unnecessary treatment due to a hospital's misdiagnosis.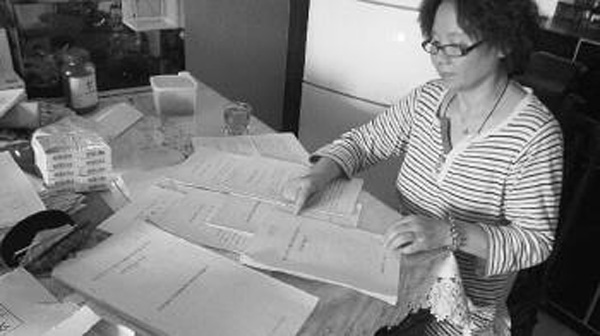 Wang Lili displays the court judgments on Dec 10. [Photo/shrb.qlwb.com.cn] 
Wang Lili, a woman from Jinan, capital of East China's Shandong province, appeared in court on Dec 9, to ask for compensation from a hospital, shrb.qlwb.com.cn reported. The hospital misdiagnosed Wang as having lung cancer in 2008, making her ill from large doses of radiotherapy and chemotherapy. She has spent 2.6 million yuan to offset the impact of mistreatment in the past six years and suffers ill-health because of the unnecessary treatment.
In 2012, the court ruled that the hospital should give Wang 995,700 yuan as compensation. But Wang has since spent even more on long-term treatment, and she has to repeatedly submit the case to ask for further compensation.