Why China will drive global climate change deal
China.org.cn / Chinagate.cn by Dan Steinbock, December 11, 2014

Adjust font size:

This month, the world's leading nations are gathering in Lima, Peru, for the 2014 UN Climate Change Conference. The talks' procedural objective is to develop a foundation for a new climate agreement that could be signed in Paris in December 2015 and that would take effect by the 2020s.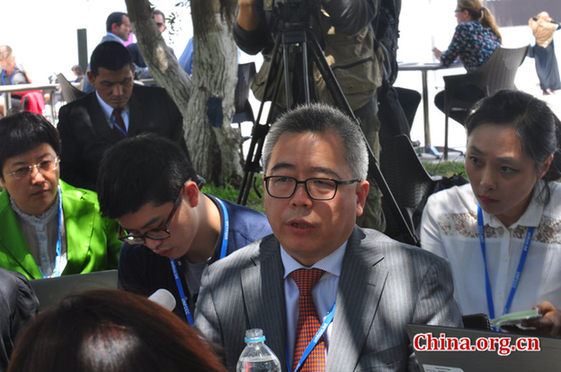 China's chief climate negotiator Su Wei takes questions from the press on the sidelines of the Lima Climate Change Conference. Su elaborated on the agenda and targets of the conference and commented on the recent Joint U.S.-China Statement on Climate Change, saying that the primary point of the Lima conference is to provide elements for a new deal. He also stated that he hopes to discuss enhanced efforts to cut emissions before 2020 and the fulfillment of rich countries' capital and technological pledges. [Photo by He Shan/China.org.cn]
The substantial objective of the talks is to significantly reduce global emissions.
Toward more inclusive global climate talks
Over the past two decades, global climate talks have evolved through three phases: the UN Earth Summit (1992), the Kyoto Protocol (1997), and the Copenhagen Accord (2009).
In Rio and Kyoto, the process and outcome of the talks was largely established by the major advanced economies that used to account for the bulk of total global emissions. That era faded away with the Copenhagen conference.
After an all-night session in Copenhagen, the leaders of a small number of mainly large emerging economies - Chinese Premier Wen Jiabao, Indian Prime Minister Manmohan Singh, Brazilian President Luiz Inacio Lula da Silva, South African President Jacob Zuma, and the United States' President Barack Obama - agreed on a politically feasible path forward. Although Brussels had been one of the most vocal advocates for climate change action, no European Union leader participated in the final talks.
A comprehensive and legally-binding protocol was simply not viable in 2009. However, in the Copenhagen Accord's first article, the signatories agreed to "urgently combat climate change in accordance with the principle of common but differentiated responsibilities and respective capabilities." They also acknowledged that deep cuts in global emissions were necessary to limit global temperature increases to 2 degrees Celsius.
Despite advanced economies' criticism of the Copenhagen Accord, the agreement was able to mitigate some of the Kyoto Protocol's shortcomings by expanding the coalition and by extending the time frame for action. Perhaps most importantly, for the first time, large emerging economies played a critical role in the final decision-making.
In the past few weeks, there has been rising optimism that negotiators in Peru might be able to secure a deal that will commit all countries to take action against climate change. Ultimately, the U.S.-China deal changed the atmosphere surrounding the talks.