Famous alumni witness signing
China Daily, December 10, 2014

Adjust font size: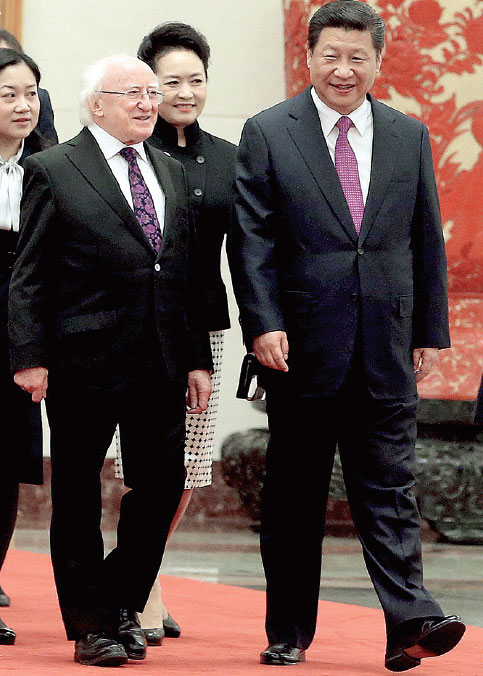 President Xi Jinping, accompanied by his wife, Peng Liyuan, welcomes Irish President Michael Higgins at the Great Hall of the People in Beijing on Tuesday. Wu Zhiyi / China Daily
Chinese and Irish universities agree to enhance their joint research
A cooperation agreement between leading universities in China and Ireland was signed on Tuesday in the presence of famous alumni: the presidents of both countries.
President Xi Jinping, a graduate of Tsinghua University, and Irish President Michael Higgins, an alumnus of National University of Ireland, Galway, witnessed the signing in Beijing of the memorandum of understanding on education and research collaboration.
Betty Liao, China promotion officer of the National University of Ireland, Galway, said the agreement will guide joint research in life sciences, industrial engineering, civil engineering and environmental studies.
It will also include student and teacher exchange programs, she told China Daily.
The agreement was one of three sealed shortly after the presidents met.
Xi said China is pushing forward urbanization and agricultural modernization, and both countries can strengthen cooperation as Ireland has advantages in information technology, medicine, bioscience and agriculture.
China encourages its enterprises to invest in Ireland, Xi told Higgins.
China has been Ireland's biggest trading partner in Asia for seven years. In the first 10 months of this year, Irish investment in China reached more than $400 million.
Higgins said his visit, accompanied by the Irish ministers of finance, foreign affairs and trade, aimed to strengthen Irish-Sino cooperation in fields including the economy, technology and education.
Ireland would like to deepen exchanges with China and be a bridge for European-Chinese communication, he said.
Higgins arrived in Beijing on Sunday, kicking off the first visit by an Irish president to China in 11 years. The trip, scheduled to end on Dec 15, is Higgins' first to Asia since he became president in 2011.
Higgins will move on to Shanghai on Thursday. In the Chinese economic hub, he will promote Irish food and tourism, and visit the former residence of Sun Yat-sen.
On Friday, Higgins will deliver a speech at Fudan University and witness the signing of agreements between the university and Trinity College Dublin, The Irish Times reported.
He will later visit Zhejiang, including a tour to Chinese e-commerce giant Alibaba Group in the province's capital, Hangzhou, the newspaper said.
Wang Zhanpeng, a researcher on Irish studies at Beijing Foreign Studies University, said Ireland's improved economic performance after the debt crisis will help it boost trade with China, and then encourage closer ties between China and the rest of Europe.