China to advance climate goals
China Daily, December 10, 2014

Adjust font size: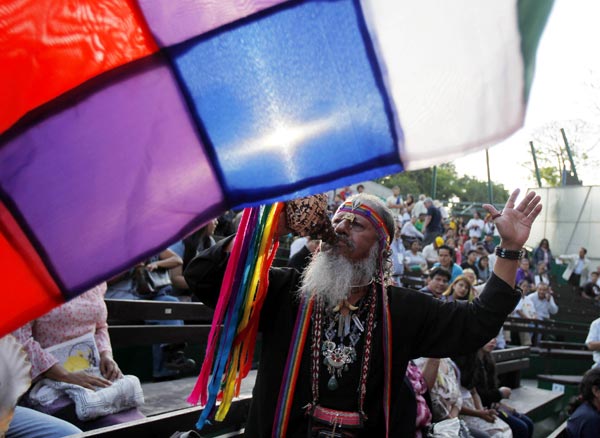 An indigenous man blows a traditional instrument known as a pututu during the inauguration of the People's Summit, an alternative event held concurrently with the United Nations Climate Change Conference in Lima on Monday. The two-week UN climate summit opened on Dec 1 in the Peruvian capital, with experts and analysts from around the world gathering to discuss melting glaciers and extreme weather patterns. ENRIQUE CASTROMENDIVIL / REUTERS
Country will 'try its best' to tackle the issue with other developing nations
China will present its post-2020 goals for coping with climate change ahead of schedule, according to the nation's top climate official.
Xie Zhenhua, head of the Chinese delegation to the United Nations climate change talks in Lima, Peru, said China will announce its "intended nationally determined contribution" in the first quarter of next year, rather than in June.
Goals to reduce carbon intensity significantly and boost forest conservation will be included in the package.
At the South-South Cooperation on Climate Change Forum on Monday, Xie said China will strive to peak earlier.
"As a developing country, China will try its best to cooperate with other developing nations to actively tackle climate change."
China has said it will set up the South-South Cooperation Fund to help developing countries address climate change, and from next year it will double its aid in this area to developing countries.
Christiana Figueres, executive secretary of the United Nations Framework Convention on Climate Change, said, "It's a good initiative that we've very much welcomed."
Figueres said that "inspired by the leadership of China", the convention's secretariat will open up a South-South Fund that will focus on sharing adaptation knowledge.
Eight ministers from developing countries, including Egypt and Gabon, and senior representatives of development agencies and international organizations attended the forum.
Figueres said the pace is picking up in Lima and she is confident that the Green Climate Fund will reach $10 billion this week in the Peruvian capital. "That's not the end of the road, but a very good first step," she said.
Among the most significant achievements of the UN climate talks, the Green Climate Fund is intended to become a key channel of money to help poor countries fight climate change and deal with its impact.
The talks in Peru have entered their second week with the arrival of ministers. The 33-page draft text for a 2015 Paris agreement was released on Monday, nine pages longer than the previous version.
Another important text that will define basic information requirements of intended nationally determined contributions was also released on Monday.
The two texts will provide a basis for negotiations in the second week, said Li Shuo, Greenpeace East Asia's climate and energy campaigner.
"Negotiations will shift to a faster pace this week, even with the premise that parties have no problems in accepting the two texts, especially the ADP decision," Li said.
ADP, an abbreviation for the Ad Hoc Working Group for the Durban Platform for Advanced Action, is the negotiating panel for the 2015 climate deal.
Its mandate is to develop a protocol, another legal instrument or an agreed outcome that has legal force under the Convention applicable to all Parties, which is to be completed no later than 2015.
Developing and developed countries need to use the second week to reach consensus and heal rifts to lay a concrete foundation for a Paris agreement to be signed next year.
For instance, developing countries insist that all elements, including financing and adaptation, should be included in intended nationally determined contributions.
But the EU Commissioner for Climate Action and Energy, Miguel Arias Canete, said on Monday that INDCS are for mitigation purposes.
Todd Stern, the US special envoy on climate change, said at a news conference on Monday, "At this stage of negotiations, things are never easy."
Young people in China and the US released a joint announcement on Monday praising their countries' commitments while calling for further climate change action from both.