Investment 'welcome' in oil and gas
China Daily, December 5, 2014

Adjust font size: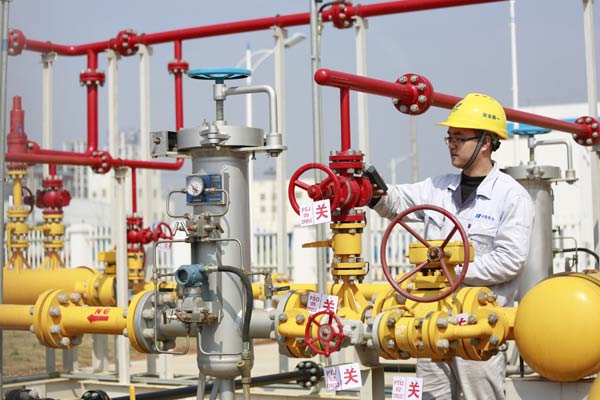 A worker inspects natural gas supply facilities in Jiujiang, Jiangxi province. Natural gas has become an important option in the world's largest energy consumer, and it plays a vital role in optimizing the energy mix. [China Daily]
The government will encourage private-sector investment in liquefied natural gas terminals and oil and gas storage and distribution facilities, a senior official at the National Energy Administration said on Thursday.
Liu Deshun, director-general of the department of oil and gas at the nation's top energy planner, said that there is "huge potential" for growth in infrastructure for oil and gas storage and distribution.
"If you look at the demand for natural gas in China, the building of facilities (for) storage and distribution is far from enough," he said. "Compared with developed markets such as the United States, we are still at an early stage."
Liu made the comments at a news conference in Beijing held by the National Development and Reform Commission.
China has built 120,000 kilometers of onshore oil and gas pipelines, excluding those in the oilfields. These pipelines form the backbone of the oil and gas market, Liu said.
Natural gas has become an important option in the world's largest energy consumer, and it plays a vital role in optimizing the energy mix. Earlier this year, Russia and China signed a $400 billion deal for the construction of a pipeline that will supply 30 billion cubic meters of natural gas a year to China.
Natural gas consumption in China stood at 167.6 billion cu m in 2013, up 13.9 percent year-on-year, while natural gas imports rose 25 percent.
With huge amounts of local government debt and mounting pressure to stabilize economic growth, the State Council, China's cabinet, is rolling out measures to draw more private capital into public-sector projects. The steps it has approved include reducing barriers to entry in some markets and using the public-private-partnership investment model.
Li Pumin, a spokesman for the NDRC, said during the news conference that the private investment model will focus on seven fields including transportation, water conservation, municipal infrastructure and energy facilities.
He said that such steps will help dismantle domestic monopolies and establish sound, dynamic markets.
But Sun Hongzhan, an analyst at Minsheng Securities Co Ltd, said many private firms that have invested heavily in the public sector often struggle to reach equal status with their State-owned counterparts.
"Public sectors such as infrastructure construction can't be completely opened to the private sector, because some of them exist for the public good and their value can't be set by the market," he said.
And in some other fields, such as the capital-intensive nuclear industry, few private-sector companies have the necessary financial or other resources to participate, Sun said.