Hotpot chain to raise $129m
China Daily, December 5, 2014

Adjust font size: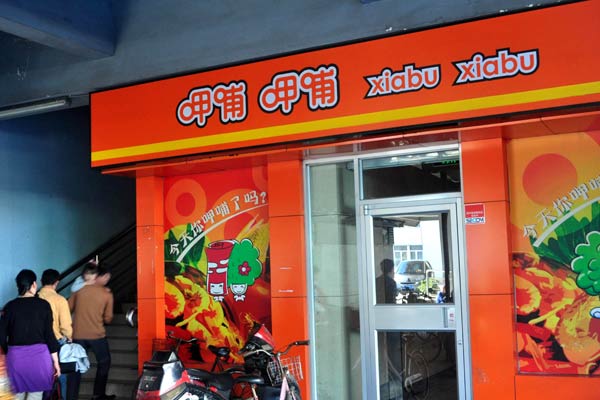 A Xiabuxiabu Catering Management Co restaurant in Shanghai. The hotpot chain plans to open 453 more restaurants in the mainland with money raised from its IPO in Hong Kong. [China Daily]
Xiabuxiabu Catering Management Co, the iconic hotpot restaurant chain on the Chinese mainland, is seeking to raise about HK$1 billion ($129 million) on the Hong Kong stock exchange by offering 227.1 million shares for sale to the public at between HK$4.4 to HK$5 apiece.
Xiabuxiabu said it has offered its international underwriters an over-allotment option of 34 million additional shares. This option, when exercised, will boost the proceeds of the IPO as well as the company's market capitalization.
Xiabuxiabu's CEO Yang Shuling said her company has earmarked up to 74.4 percent of the net IPO proceeds to help fund the opening of an additional 453 restaurants throughout the mainland in the next four years. The company currently owns and operates 420 restaurants.
Yang said that the new restaurants would be spread across the country in Beijing, Tianjin, Shanghai and the southeast region. Other strategic locations include Shanxi and Henan provinces, she said, adding the company will have more than 1,000 restaurants by 2018.
Another 10 percent of the IPO proceeds would be spent on an additional logistics and production center in Beijing, Yang said. The company also plans to build a similar center in Shanghai with about 12.6 percent of money raised in Hong Kong, she said.
According to Frost &Sullivan, a market research institution, Xiabuxiabu dominated the fast-casual hotpot restaurant market in the Chinese mainland with a market share of 51.9 percent in 2013.
"Xiabuxiabu has done a fantastic job in setting up a mature business model that establishes a modern and affordable dinning style, generates high profit, guarantees quality, and can be replicated fast," said Ho Kuang-Chi, the company's chairman.
Average spending per diner at a Xiabuxiabu outlet amounts to about 44 yuan ($7), which was low enough to attract as many as 56 million customers in 2013.
All Xiabuxiabu restaurants share the same design and layout which emphasize on efficiency that can help cut overall costs, the company said. What is more, the chain is large enough to achieve economy of scale, giving it bargaining power in negotiating with suppliers and landlords.
The company's preliminary prospectus said that it typically takes three months for a new restaurant to break even and 14 months to begin making a profit.
Esther Ho, an investment banker at Merrill Lynch, said valuation for Xiabuxiabu shares is estimated at around 17 times earnings, or HK$5 per share.
Analysts said that catering companies typically offer their shares for sale at multiples of between 16 to 19 times in Hong Kong's IPO market.
Trading of the company's shares on the Hong Kong stock exchange is expected to commence on Dec 17 and would be traded in lots of 500 shares.