Severe pollution at ex-mining hotspot
Shanghai Daily, December 3, 2014

Adjust font size:

Pollution levels in a former unregulated mining hotspot in central China are still hundreds of times above national limits despite a clean-up campaign lasting years, a study has found.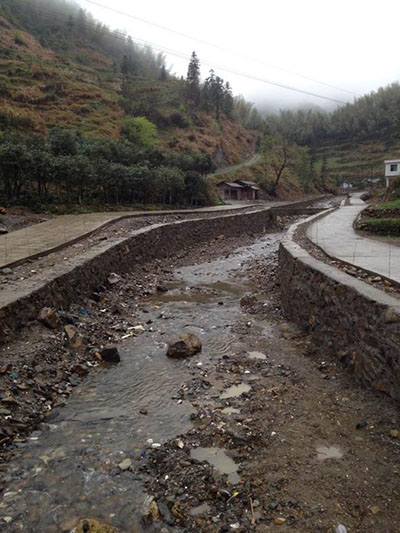 A file photo shows a heavily polluted section of Xiangjiang river in Yongzhou, Central China's Hunan province. Photo was taken on April 11, 2014. [Photo/Xinhua] 
Levels of arsenic in sediment of the Ganxi River, in Linwu County, central China's Hunan Province, were found to be almost 716 times the national standard, the China Economic Weekly reported this week.
And rice fields in Ganxi Village contain levels of cadmium almost 207 times the national standard, the study by the Changsha Shuguang Charity Development Center found.
"We want to build a database to let the public know the pollution facts," said Gao Liang, a member of the non-government group.
Rich in reserves of non-ferrous metals, including lead, zinc and tin, Linwu County was a boomtown, especially in the 1980s and 1990s.
Mountains were pitted with mines and 100,000 people flocked to the 48-square-kilometer ore-rich zone.
Six people became billionaires, reported provincial news portal rednet.cn.
However, lack of supervision led to unlicensed mining on a huge scale, it said.
The county is upstream of Hunan's biggest river, the Xiangjiang, and it is now one of China's most polluted with heavy metals.
There has also been an increased number of cave-ins.
In 2006, an unprecedented crackdown on illegal mining was carried out with thousands of enterprises closed.
In 18 months, officials closed 69 illegal mines, destroyed 2,870 illegal workshops and detained 87 people. About 70,000 mine workers returned home.
"Though mining could bring the county 100 million yuan (US$16.26million) per year, it now needs more than 3 billion yuan to clean the environment," Linwu official Shi Chuanwen said.
While pollution levels are still high, there have been some successes, reported the website.
After 8 years, nearly 15,000 people in the area now have access to safe drinking water, said the website.