China Bolsters Int'l Response to Ebola with US$6 Mln Donation
chinagate.cn, December 3, 2014

Adjust font size: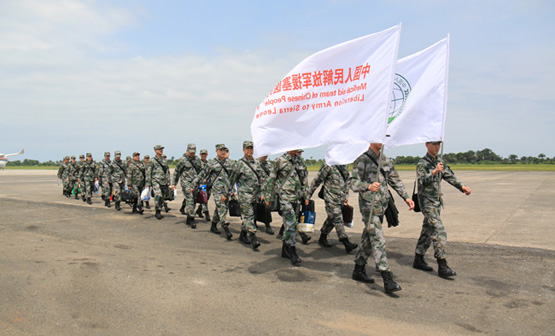 On behalf of the Chinese Government, the Ministry of Commerce signed into agreement a pledge of US$6 million to the Ebola Response Multi-Partner Trust Fund made to support the outbreak which has affected 1.3 million people in West Africa and beyond.
China has so far contributed 750 million yuan (USD $123 million) to 13 African countries and international organizations to combat Ebola (including USD $6 million to WFP and USD $2 million to WHO). This new agreement signals a step up in China's active engagement in tackling the global health challenge. Due to the unprecedented size and scale of the current outbreak, the United Nations highly appreciates China's timely contribution to the Fund.
The Secretary-General Ban Ki-moon said he is "heartened by the continued generous mobilization of the international community in support of those countries most affected by the Ebola outbreak in West Africa. China has been a leader in providing financial and in-kind commitments to the global Ebola response." He said he "welcomes China's donation of a fully staffed 100-bed treatment centre in Liberia and its latest commitment of USD $6 million to the UN Ebola Response Multi-Partner Trust Fund, which is designed to finance critical unfunded priorities in the fight to end Ebola transmission."
UN Agencies have already been working on the ground in the worst affected areas by providing up-to-date Ebola Response Roadmaps for all Country Offices, purchasing vital food supplies and healthcare and focusing on the two main relief areas of supporting efforts to stop the epidemic and ensuring that countries, communities and individuals can recover quickly and sustainably.
The agreement was signed into effect at the Ministry of Commerce by Mr. Zhang Xiangchen, Assistant Minister of Commerce and Mr. Alain Noudehou, the UN Resident Coordinator and UNDP Resident Representative acting on behalf of the Multi-Partner Trust Fund.
"Over a long time, China and relevant United Nations organizations, including the UNDP, have launched a wealth of effective collaborative initiatives," Said Mr. Zhang Xiangchen, "we hope that both sides will deepen this relationship and continually enrich this notion of cooperation."
At the signing ceremony, Mr. Alain Noudehou expressed gratitude for the very generous contribution made by the Government of China to fight the Ebola Outbreak and reiterated the commitment to continue strengthening the excellent cooperation between the UN system and China.