Home prices slide, but stability emerges
China Daily, December 2, 2014

Adjust font size: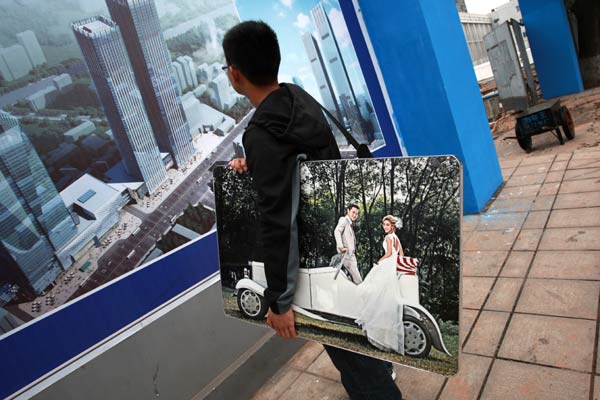 A man carrying his wedding photo stops to check out a property promotion in Changsha, Hunan province. New home prices in November dropped 1.57 percent year-on-year in 100 cities monitored by the China Index Academy. ZHOU QIANG/CHINA DAILY
Despite the recent market stimulus measures, China's new home prices fell in November for the seventh consecutive month, private institutional data have revealed. But there were clear signs of stabilization in the country's largest cities.
The average price of new homes in 100 cities monitored by the China Index Academy, a Soufun Holdings Ltd affiliate, fell by 0.38 percent month-on-month in November to reach 10,589 yuan ($1,720) per square meter, slightly down on the 0.4 percent month-on-month contraction recorded in October.
Year-on-year, November's price dropped 1.57 percent, much larger than the 0.52 percent fall recorded in October.
The academy's data showed that the government's new stimulus policies were having the greatest effect in the largest 10 cities with average new home prices ending six months of consecutive drops, by gaining 0.07 percent in November on October.
The rebound was strongest in Shanghai where the price gained 1.18 percent in November to hit 32,140 yuan per sq m. Last month the city eased its definition of "ordinary homes", expanding the pool that could enjoy preferential mortgage policies.
"Although the price is still declining, the favorable policies significantly boosted consumer confidence and stimulated them to cash in," a report accompanying the data said. "The rebound is particularly evident in the first-tier cities."
In Beijing, the average price of new homes fell 0.62 percent over October, after a 0.69 percent gain in October. The price of pre-owned houses also dipped 0.41 percent in November, after a 0.67 percent rise in the previous month.
Analysts said this was because developers are actively offloading their assets with promotional prices, further evidenced by increasing transaction volumes.
Contract records for both new home and pre-owned home sales in the Chinese capital city rose more than 20 percent in November, according to Centaline Group, a brokerage firm.
There were 10,863 recorded pre-owned home sales as of Nov 29, the first time this year that sales have exceeded 10,000 in a single month.
Analysts said, however, they still expected tepid house price growth in the near term, given that most lower-tier cities still have high inventory levels, with most developers still under huge pressure to achieve full-year sales targets amid tight liquidity conditions.