China takes the lead in combating climate change
china.org.cn / chinagate.cn by Gong Yingchun, December 2, 2014

Adjust font size: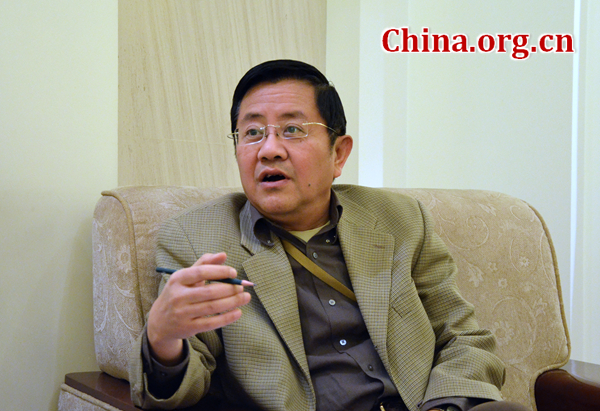 Gao Feng, special representative for climate change negotiations of the Ministry of Foreign Affairs, speaks during an exclusive interview with China.org.cn. [Photo by Gong Yingchun/China.org.cn]
In its role as a major economy and responsible country, China is taking the leading role in tackling the challenge of climate change, said Gao Feng, special representative for climate change negotiations of the Ministry of Foreign Affairs, during an exclusive interview with China.org.cn on Tuesday.
According to the United Nations Framework Convention on Climate Change, developed countries should take the lead in combating climate change. China, which is still a developing country, has also committed itself to addressing climate change and has obtained remarkable achievements, Gao said.
In 2009, China announced its ambitious target to cut its carbon intensity – the amount of carbon dioxide produced per unit of GDP – by 40-45 percent by 2020from 2005 levels. By the end of 2013, China's carbon intensity had dropped by 28.56 percent. That means China has avoided 2.5 billion tons of CO2 emissions, according to Xie Zhenhua, vice minister of the National Development and Reform Commission.
"China's energy savings accounts for 58 percent of the world total during 1990 to 2010," Gao said, citing data compiled by the World Bank Group.
The achievements China has made in carbon reduction and energy conservation are directly related to its constant energy restructuring efforts. In the past few years, China has strived to develop non-fossil fuels including nuclear power, hydropower, wind power and solar power.
Between 2007 and 2013, China's total installed hydropower capacity doubled, and that of wind power and solar power increased by 60 and 280 times, respectively, Xie said during a press conference on Tuesday. He also pointed out that China's installed renewable power capacity in 2013 accounted for 24 percent of the world total, citing U.N. data.
Moreover, China installed more renewable energy capacity last year than both Europe and the rest of the countries in the Asia Pacific region combined, the International Renewable Energy Agency said in a report released on Nov 24. The report pointed out that China can expand renewables in the power sector from 20 to 40 percent by 2030, making it the world's largest renewable energy user.
In addition to energy restructuring and development transformation, China has stepped up efforts to increase its communication with other countries, learning from developed countries and providing assistance for those countries who are truly in need.
In September, China's Vice Premier Zhang Gaoli said during the U.N. Climate Summit in New York that China will promote South-South cooperation on climate change. He pledged that China will double its annual financial assistance for establishing the South-South Cooperation Fund on Climate Change over the next year.
Gao Feng pointed out that China has invested 270 million yuan (about 44 million U.S. dollars) in climate change-related projects since 2011, and provided training service for nearly 2,000 officials and technicians come from developing countries. "China will increase its efforts to promote South-South cooperation in the future," he said.
The 2014 United Nations Climate Change Conference will be held early next month in Lima, Peru, a "key step" in paving the way toward the 2015 conference in Paris where countries around the world must reach a new climate change deal.
China hopes the new agreement will be reached as scheduled, and the country has taken concrete actions to show its resolve.
In a China-U.S. joint statement issued early this month, China announced that it will achieve peak CO2 emissions around 2030 and will make best efforts to peak earlier. It also aims to increase the share of non-fossil fuels in its primary energy consumption to around 20 percent by 2030.
"The announcement provided a powerful impetus for tough global climate negotiations," Gao said. "The Lima conference might be different due to these inspiring improvements," he predicted.