Funding key to climate change action
china.org.cn / chinagate.cn by He Shan, December 2, 2014

Adjust font size:

As representatives from almost 200 countries gather in Lima for the U.N. Climate Change Conference, COP20, that began on Monday, climate finance will be a focal issue for discussion that will pave the way for the Climate Change Conference next year in Paris.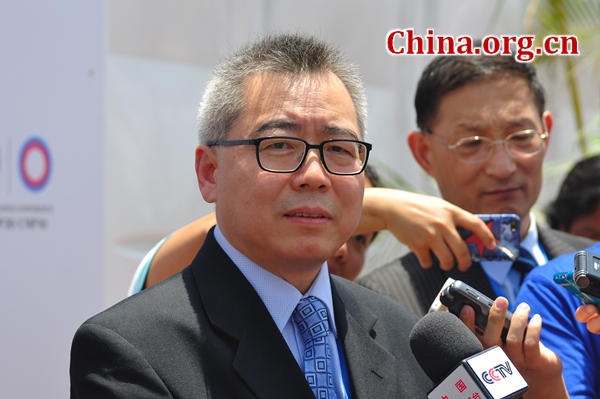 Su Wei, China's chief climate change negotiator. [Photo by He Shan/China.org.cn]
Two weeks before the COP20, developed countries, including the United States and the United Kingdom, pledged US$9.3 billion for the Green Climate Fund to help developing countries cut emissions and adapt to global warming, but the amount is still shy of the US$10 billion target.
"We have heard many pledges, so the theme of this conference will be action," said China's chief climate change negotiator, Su Wei. "The focus is the realization of promises and pledges to let developing countries get financial support."
China has always hoped developed countries will not just pay lip service and will instead take real action to address climate change.
In 2009, wealthy countries promised to mobilize US$100 billion a year by 2020 to help vulnerable nations adapt to climate change and develop in an environmentally-friendly way, but headway in mobilizing that funding has been slow.
In a new report, Oxfam said that all countries must make use of the COP20 to resolve the impasse over climate finance. The report also points to donor countries avoiding accountability for their fair share as a key reason for the gap between current climate investments and climate needs.
"The COP20 Summit in Lima will set the stage for success or failure in Paris. We need clear commitments of climate finance, focused on what developing countries actually need," said Oxfam Executive Director Winnie Byanyima.
Although China is still a developing country, it has taken firm action to play its part in helping other developing countries respond to climate change.
At the Climate Change Summit in New York in September, Chinese Vice Premier Zhang Gaoli pledged US$6 million to support South-South cooperation on climate change, doubling its annual financial support for the established South-South climate change co-operation fund.
Speaking on the sidelines of the COP20 in Lima, Su Wei said, "There is pressure at each conference, but pressure encourages us to push for achievement."
Su added that China sincerely hopes the Lima conference can achieve expected outcomes.