Time for a drink in a healthy way
China Daily, December 1, 2014

Adjust font size: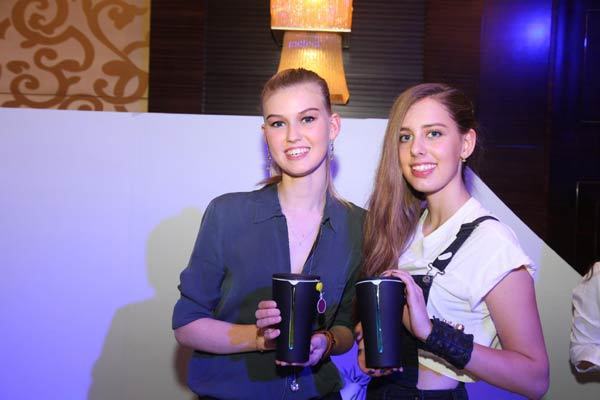 Shenzhen-based Rrioo Technology Co Ltd unveils its smart cups during a press conference in Beijing in late October. The pre-order of the 669 yuan ($109.5) smart product started on JD.com on Wednesday. [China Daily]
After smart wristbands that can track your every movement, and smart scales that can monitor your weight, a new wave of technology is now expected to delve even deeper into monitoring everyday life, including one device which even promises to revolutionize the way we do things as bland as drinking a cup of water.
Pre-orders opened on Nov 26 for Ocup with more than 750 people having paid for at a price of 669 yuan ($109.5) on JD.com, what its developer Shenzhen-based Rrioo Technology Co Ltd calls a "smart cup".
Using sensors and a Bluetooth device inside the polymer-coated cup itself, the vessel can track the amount of liquid users drink throughout the day.
The data are recorded and can be checked via an Ocup app, much in the same way as the well-known wearable tracker Jawbone Up can record a person's progress toward daily fitness goals.
Ocup has been developed to measure the amount of water people drink to make sure their intake is at a healthy level, no matter what kind of life they lead.
"People spend more than one third of their days in offices," says Yin Jisheng, Rrioo's chief executive.
"Fast-paced office life usually comes with big pressure, which squeezes the time for people to pay attention to their own health. Apart from creating a smart product, Rrioo hopes to promote a healthy lifestyle," he says, adding that the company hired top designers from Denmark to make the cut itself look as stylish as possible, under the philosophy, "less is more".
As well as the basic functions of tracking water intake and sending out signals to remind users to drink regularly, Ocup also has an array of other features such as wireless charging, gesture monitoring and an LED display which can tell the user temperature of the liquid it contains.
According to JD.com, China's massive e-commerce site which specializes in selling consumer electronic products, the smart cup could be the next big thing in China, after the launch in July of a similar device by a company called Cuptime, what was then the first of its type.
"Smart cups have gained huge popularity with sales beating the overall performance of other smart gadgets online," said a statement from the firm.
As many as five smart cup products are currently being sold on the platform, for between 199 yuan and 399 yuan. Cuptime has sold more than 2,500 units.
JD is enthusiastic about the idea because it said traditionally busy office workers often don't drink nearly enough water during their busy day.
"Cups with a reminder function that can help users ensure they drink enough water during the day, as many do not, is a smart idea."
Chen Jia was recently given a smart cup as birthday present, which the office worker thinks is not only "cool and trendy", but also very useful.
"It makes me popular in the office," she says, "and a lot of my colleagues are interested in getting one too."
Many of the smart cups being promoted on JD.com are being marketed as gifts to someone you care about, but Wu Hao, an analyst with Beijing-based IT consultancy Analysys International, thinks the concept needs a better image than being just a gift.
A healthy present is all very well, Wu says, but its novelty factor is what might eventually build a very strong following.
"Yes, they are fashionable because they represent a healthy lifestyle. But I don't think that meets its yet-untapped market demand.
"Just ask yourself: 'do you actually need a cup to remind you to drink water and document your water intake?'"