The 'most beautiful teacher' in the mountains
china.org.cn / chinagate.cn by Chen Xia, November 27, 2014

Adjust font size:

Ma Jianxia, 29, is the headmaster of the Central Elementary School of Dapingzi Village in Liangshan Yi Autonomous Prefecture in Sichuan Province. The school, located deep in the mountains, cannot be accessed by paved road, so supplies must be carried in by horseback along a narrow nine-kilometer trail.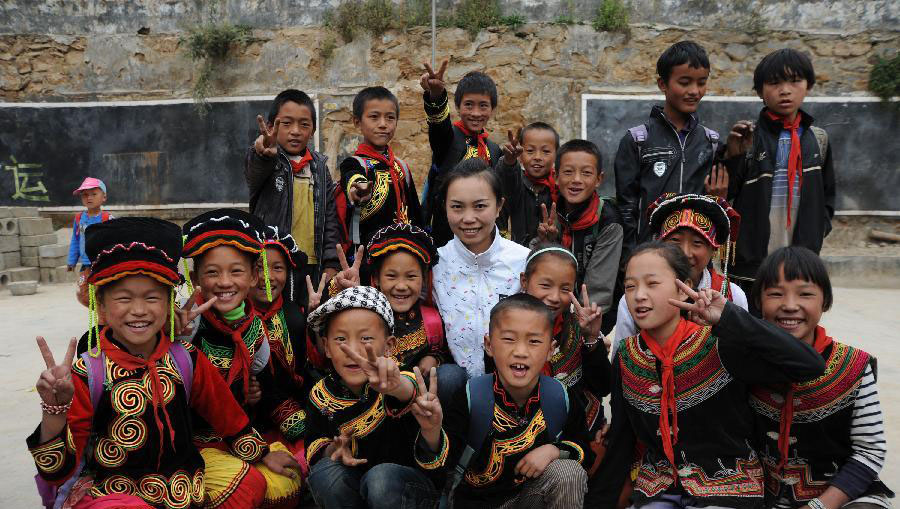 Ma Jianxia and her students.
When Ma first went to work at the school, she was only 18 years old. It took her four hours to climb up the perilous mountains. A villager she came across warned her to watch her step because many people had fallen down the steep cliffs and died there. When Ma finally got to the school, she was on the verge of a nervous breakdown. The second she saw the headmaster, she cried out, "I want to go home!"
However, the headmaster asked her to rest a few days, meet the students and then make her decision. Those few days changed her life. "I saw how eager to study the children were. I couldn't leave. They needed teachers," she said.
And she has stayed in the deep mountains ever since.
For many years, Ma had to give 25 Chinese language and math lessons every week. She also had to do accounting work in her spare time. One Sunday in 2006, she went out to collect wages for the teachers. On her way back, a thunderstorm suddenly started, trapping her on a cliff with mud and stones flowing down fast over her head. She made a narrow escape and caught a fever, but she still gave lessons the next day.
When the school was founded, there were only four grades. Soon after Ma arrived there, she found out that, to her surprise, many children came back to join the fourth grade again and again after they finished it. In order to turn the school into one that offered a complete education, Ma contacted officials at several different levels. Thanks to her efforts, the school added the fifth and sixth grades in 2007 and had 17 graduates the next year.
In the past, students at the school had no extracurricular activities. To add variety to the children's lives, Ma started teaching gymnastics after class and established the school's first broadcasting center. In 2004, she learned that the children had never celebrated the June 1 Children's Day and volunteered to organize their first-ever festival event.
As a village teacher, Ma's wage is not high. But even after covering her own spending and supporting her parents and younger sister, she managed to save up to support poor children in the village. "The money I saved can help two or even more children attend school. What I have missed are just temporary pleasures, but what my students have gained will benefit them all their lives. So it's worth it," she said.
When Ma first came to the school, she was a young girl. As she grew older, her parents began to worry whether she could get married in such a remote place. Ma was actually quite pretty and had several suitors, but none of the relationships ended well because she refused to leave the children in the deep mountains.
Over the past few years, many teachers have left the village school because of the difficult conditions, but Ma has stayed on. "I chose to stay because I truly feel that the children needed me," she said. She has made up her mind to improve the school's conditions and fulfill her dream of passing on knowledge and enlightening people.
Ma's hard work has brought her many accolades. In 2012, she was elected a delegate to the 18th National Congress of the Communist Party of China (CPC) and nicknamed the "most beautiful teacher" by Chinese netizens. The school and the village have also received a great deal of social attention as a result of Ma's work there, and both have received aid to help them improve.