One-month-old girl comes to brother's aid
Shanghai Daily, November 26, 2014

Adjust font size:

A three-year-old boy with a life-threatening condition yesterday received a stem cell transplant from his baby sister's umbilical cord blood at the Shanghai Children's Medical Center.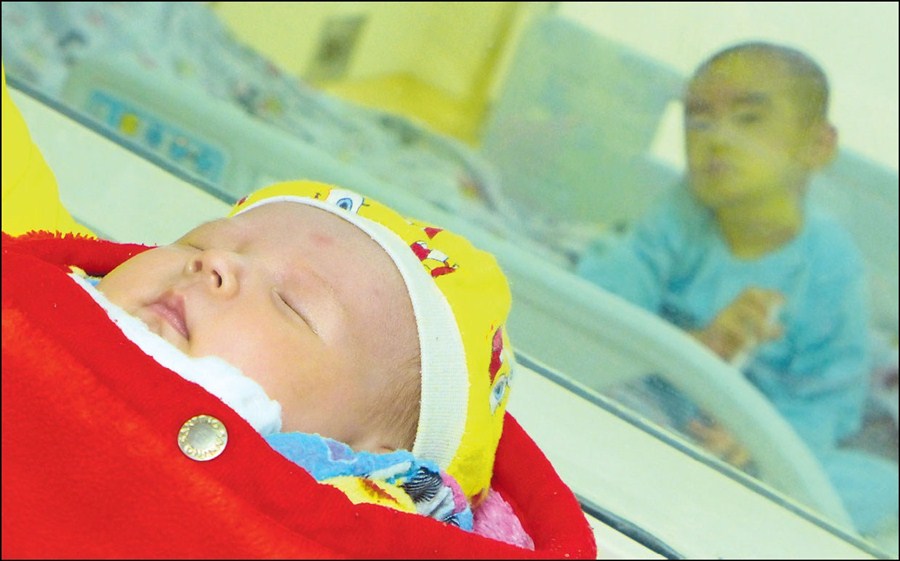 Tongtong sleeps in her mother's arms, while nearby her brother An'an, 3, awaits yesterday's stem cell transplant from his baby sister. — Wang Rongjiang 
In helping her brother, the one-month-old girl — known as Tongtong — became the youngest donor of umbilical cord blood in the city.
The little boy, An'an, suffers from aplastic anemia, which means that his bone marrow does not make enough new blood cells.
Doctors at the SCMC said the procedure went well and now they must wait and see how An'an fares.
An'an faced a setback 10 days ago when a matched volunteer from the Chinese Marrow Donor Program backed out.
Now the family are hopeful that their daughter's gift will bring better times.
"She gives new hope to our entire family," said the children's mother, Chen Tang'e, as she held Tongtong and watched the stem cell transplant procedure on her son yesterday.
"We feel so lucky that we stored her umbilical cord blood on the doctor's advice, otherwise my boy may have died," she added.
An'an's parents, who are farmers from east China's Jiangxi Province, took the boy to hospital in August as he had a fever and a poor appetite.
He was diagnosed with aplastic anemia and in September the family brought him to the SCMC.
Doctors there said An'an had the most serious type of aplastic anemia and that only a stem cell transplant could save his life.
As An'an's father Rao Yuliang has hepatitis B, and Chen was pregnant, they were not suitable donors.
Instead, doctors asked them to check the marrow donor program, which found a 90 percent match in one donor.
"I also suggested the parents store their second child's umbilical cord blood, which contains stem cells, and offers a one-in-four chance of a match," said Dr Chen Jing from the SCMC.
"Umbilical cord blood can serve as the major therapy or a support treatment to reduce rejection if receiving stem cells from an adult donor," said the doctor.
Tongtong was born on October 21 and her cord blood sent for testing and storage. To the family's delight, she is a complete match to An'an.
Doctors had planned to use stem cells from the adult match as the main therapy, with Tongtong's umbilical cord blood as support.
However, when the donor withdrew, the plan had to change.
"The umbilical cord blood became the boy's only chance to survive. If he didn't receive a transplant, he could have died at any time," Dr Chen Jing said.
"Today's transplant went smoothly. It will take three to four weeks to see whether it is a success."