Goal to cut emissions can be met, official says
China Daily, November 26, 2014

Adjust font size:

The recent landmark climate agreement with the United States is a win for both sides and will inject positive energy into the upcoming global climate change negotiations in Lima, Peru, early next month, a top climate official said.

Xie Zhenhua, vice-chairman of the National Development and Reform Commission, said China is confident of meeting its 2030 goals for a peak in carbon dioxide emissions and lifting the share of non-fossil fuel to around 20 percent of energy use.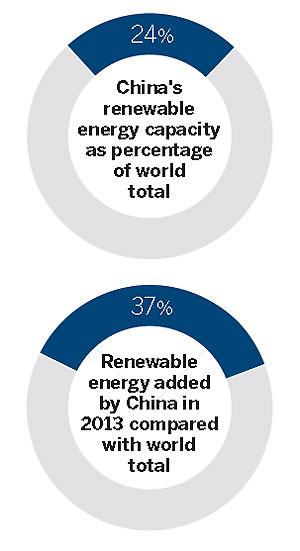 China will make the goals legally binding by incorporating them into the next three Five-Year Plans, Xie said at a news conference on Tuesday.
He said China aims to cut its 2020 carbon intensity - the amount of carbon dioxide produced per unit of GDP - by 45 percent from the 2005 level.
"No matter what difficulties we are going to encounter, those commitments must be honored," Xie said.
China's emissions goal was announced in a US-China agreement during a visit to Beijing earlier this month by US President Barack Obama, who set a target at the same time for the US to cut its emissions by 26 to 28 percent from 2005 levels by 2025.
"As a developing country, China will adopt ambitious actions after 2020 in light of its national circumstances," said Xie. China will submit a package to the UN early next year outlining the country's actions for post-2020.
Carbon dioxide emissions per unit of GDP in 2013 were 28.5 percent lower than the 2005 level. That is equivalent to a cumulative reduction of 2.5 billion tons of carbon dioxide, according to the 2014 China's Policies and Actions on Climate Change, released on Tuesday.
China's carbon intensity dropped 5 percent in the first nine months of this year from a year earlier, and its energy intensity - the amount of energy use per unit of GDP - fell by 4.6 percent.
Xie, also head of the Chinese delegation in next month's UN climate change talks in Lima, called for all nations to review their climate change targets.
Meeting commitments before 2020 will lay a foundation for mutual understanding and will boost confidence for realizing the post-2020 targets, said Xie.
Nations are working toward a new global climate change agreement to be reached in December 2015 in Paris.
China has pledged to double its annual financial support for the establishment of a cooperation fund on climate change for developing countries. The country has put 270 million yuan ($44 million) toward helping developing countries adapt to climate risks since 2011.
Su Wei, director-general of the Climate Change Department under the National Development and Reform Commission, said a nationwide market for trading carbon credits will be put into operation in 2016.
"There will be a long process for exploring and making improvements. We hope a relatively mature carbon market will be formed by 2020," Su said at the news conference.
Seven pilot regions including Shenzhen, Beijing and Tianjin traded a combined 13.75 million metric tons of carbon dioxide credits by the end of October, totaling 500 million yuan.
Jim Yong Kim, president of the World Bank Group, said world leaders and policymakers should embrace affordable solutions like carbon pricing and policy choices that shift investment to clean public transport, cleaner energy and more energy-efficient factories, buildings and appliances.
The impact of climate change, such as extreme heat events, may now be unavoidable because Earth's atmosphere is locked into warming close to 1.5 C above preindustrial levels by midcentury, according to a new scientific report released by the World Bank Group.