Yili opens first major overseas factory in New Zealand
Xinhua, November 25, 2014

Adjust font size: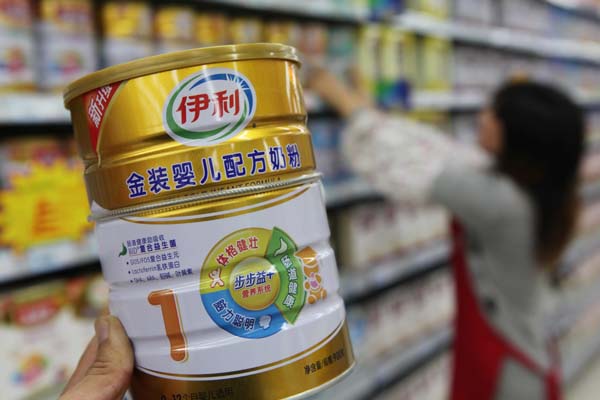 A customer shops for a tin of Yili gold infant formula at a supermarket in Shanghai, June 6, 2014.[Photo/IC]
Chinese dairy giant Yili's first major plant abroad was officially opened in New Zealand's South Island on Tuesday with the announcement that it will almost triple its investment in the factory by 2019.
The factory in Glenavy, South Canterbury built at a cost of NZ$236 million ($185.14 million) was built by Oceania Dairy Ltd, a wholly-owned subsidiary of Inner Mongolia Yili Industrial Group.
Yili also confirmed it planned to invest another NZ$400 million ($313.79 million) in the factory, which is already producing infant formula, over the next five years.
More than 70 jobs had been created within stage one of the new plant, which was completed in September, and it was processing 220 million liters of milk from 48 local farms in its first season, Yili Group executive president Zhang Jianqiu said in a statement.
"The Oceania Dairy factory at Glenavy is Yili's first major offshore investment and the company is focused on ensuring the success of the operation," said Zhang.
"As the world's largest milk exporter, New Zealand is ideally positioned to work with China to meet the country's escalating demand for milk."
Development of the plant to include a whole milk powder dryer, an infant formula canning line, and facilities to manufacture UHT (ultra-high temperature) milk products and lactoferrin over the next five years would add another 150 staff.
"We expect to be handling more than 630 million liters of milk from local farm suppliers by the end of the expansion project in 2019, generating export revenues in excess of NZ$700 million ($549.23 million)," Oceania Dairy chief executive Aidan Johnstone said in the statement.
Yili, which purchased Oceania Dairy in April last year, is listed on the Shanghai stock exchange and claims its 2013 revenue of $7.6 billion that makes it the 10th largest dairy company in the world.