US aids in return of economic fugitives
China Daily, November 24, 2014

Adjust font size:

'Fox Hunt 2014' proving successful in tracking down corrupt officials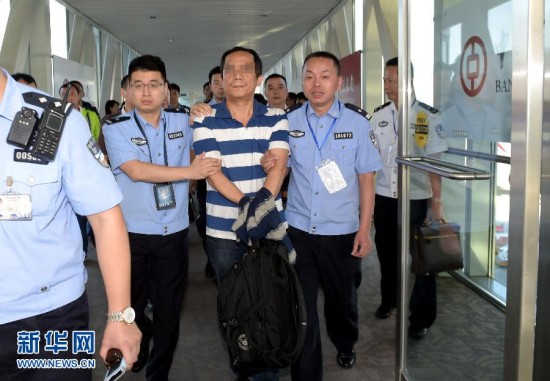 The latest judicial cooperation between China and the United States to nab economic fugitives has made major progress, with more than a dozen suspects brought back from the US to face trial, a senior official from the Ministry of Public Security said.
Most of the fugitives face charges of embezzlement, misappropriation of public funds and fraud involving contracts and fund-raising, said Liu Dong, deputy director from the ministry's economic crimes investigation bureau.
A six-month "Fox Hunt 2014" crackdown launched in July to target suspects escaping abroad has nabbed at least 312 economic fugitives from 57 countries and regions, latest ministry figures showed.
Suspects will be transferred to prosecuting departments to face charges if police collect enough evidence, Liu said.
"As for those persuaded to come back to plead guilty, we will consider lenient punishment for them," he said.
Authorities have on hand "a priority list of alleged economic fugitives, including corrupt officials who are still at large in the US, and have requested the US to provide assistance for investigations", Liu said.
In recent years, the US has become the main destination for corrupt Chinese officials escaping punishment, with large amounts of illegal funds transferred due to lack of a bilateral extradition treaty and obstacles posed by complex and lengthy procedures.
A large number of corruption-related fugitives have fled to the US, and most are government officials or senior managers from State-owned enterprises, according to the Ministry of Justice.
Joint action from the two sides to hunt down the fugitives and confiscate their illegal assets has been positive, Liu said.
"Once we provide evidence of the suspects' economic crimes to our US counterparts for judicial assistance, they will adopt an active attitude to help us with the investigations."
If there is solid evidence that confirms a transfer of ill-gotten funds, they will "take immediate measures to freeze the suspects' assets including housing, bank savings and other investments in the US and criminally punish them, then issue deportation orders for them", Liu said.
In a recent Asia-Pacific Economic Cooperation meeting in Beijing, APEC members set up a regional law enforcement cooperation network known as Act-Net to crack down on corrupt officials.
During the meeting, President Xi Jinping and his US counterpart Barack Obama committed to strengthening cooperation on fighting corruption and repatriating corrupt officials hiding in the US.
Judicial officials from China and the US will meet in August or September every year to discuss their major concerns, including drug trafficking, weapons smuggling, cybercrimes and the hunt for corrupt officials and recovery of their assets, said Yang Shaowen, deputy director of the ministry's international cooperation department.
The Ministry of Public Security is also planning to set up an annual high-level meeting with US judicial authorities, including the US Department of Homeland Security, to apprehend more Chinese fugitives, he said.
"Due to legal obstacles and complex legal procedures, Chinese police are facing difficulties in repatriating fugitives from the US," said Huang Feng, a law professor from Beijing Normal University who specializes in extradition issues.
Once a case goes to US judicial organs, they do not disclose details to the Chinese side due to privacy concerns, he said.
The US judicial organs also seem prejudiced against the Chinese legal system and its procedures, and they mistakenly believe that "Chinese judicial officers will torture the suspects and prosecute them unfairly", the professor said.
"The US side should be more understanding of China's judicial procedures and be more active toward our request for an extradition treaty," he said.
Among the 312 economic fugitives nabbed in places like the US, Canada, Japan and Thailand in "Fox Hunt 2014", 130 have been persuaded to return to confess their crimes, ministry figures showed. The police also brought back more than 80 fugitives from the US, Canada, Australia and Belgium to face trial.