Alleged 'hacking school' hit by new scandals
china.org.cn / chinagate.cn by Zhang Lulu, November 21, 2014

Adjust font size:
"Here comes the question. Which school has the best excavator technique?" -- This is the meme that has been circulating on Chinese social media in recent months.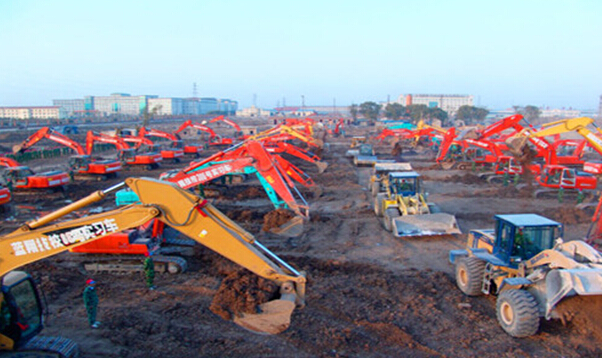 Students at Lanxiang Vocational School learn to operate an excavator. [File photo]
The question, however, is rhetorical and is a spoof, because the next sentence goes something like "come to Lanxiang Vocational School in Shandong," as it is a viral commercial the school has flooded television stations with for more than two decades.
The meme, along with the vocational school (which offers courses like excavator technology, cooking, auto repair, hair styling and so on), has been grabbing the public eye again since September, when several dozens of its students and teachers were reportedly involved in a brawl that went beyond the school site in Shandong to central China's Henan Province.
It later turned out the skirmish arose from a dispute of assets between the school founder and headmaster Rong Lanxiang and his wife, who filed a divorce last December. The site they are fighting over is one of the premises under dispute.
Hacking allegations
It is not the first time that the school has dominated the headlines, though.
A report by the New York Times in February 2010 alleged the school, together with China's Shanghai Jiaotong University, of being behind cyber attacks against U.S. Internet heavyweights such as Google.
The attacks were "aimed at stealing trade secrets and computer code and capturing the e-mails of Chinese human rights activists," the article read.
The report also described the Lanxiang School as having "close ties to the Chinese military" and as being "operated by a company with close ties to Baidu," Google's Chinese rival.
The school denied the hacking allegations, saying that it did not and was not able to initiate such sophisticated attacks against Google. It also said that the school had not hired any foreign teachers, after the New York Times report implied a Ukraine teacher running computer science classes in the school may have been connected with the hacking.
But the school did admit its history with some Chinese military units, as it rented military space for the school premises in its fledging days and it admitted that the school provided professional training to some retired soldiers and their family members since 2004.
The allegations then died down as there was no substantial evidence.
The dilemma of vocational education
Following the 2010 hacking allegations, the school found itself again under the spotlight this September. After the notorious fight, a series of scandals surfaced, most of which had to do with the school headmaster Rong Lanxiang and were revealed by his estranged wife.
Rong's wife Kong Suying accused him of holding three ID cards, violating China's child-planning policy by fathering six children, inflicting violence on her for the past 20 years, and having extramarital affairs.
Rong Lanxiang offered on Nov. 18 to resign his seat as a member of the National People's Congress, China's top legislature, a move which was apparently related to these scandals.
But apart from Rong's family drama, the school management has also been called into question in the recent months. A number of Chinese media outlets frowned upon the school's so-called "quasi-military" disciplinary methods, or its strict and sometimes oppressive management of its students. The school was also suspected of manipulating its employment rate, which it claimed was 100 percent, and of "snatching" students during enrollment each year.
Rong said in October that the reputation crisis would cost the school up to 180 million yuan in losses by the time of the Spring Festival in February next year.
But what the scandals revealed went far beyond money and reputation, but underscored the dilemma the vocational education system in China face, as the school has long been cited as representative of the sector.
Currently there are 30 million students in vocational schools in China, with 10 million of them graduating every year. The average employment rate is more than 90 percent, Chinese Premier Li Keqiang said at a meeting on vocational education in June.
However, the large numbers of students are not able to meet China's employment needs. As the Chinese economy keeps growing and undergoing transformation, the shortage of workers, especially highly skilled workers, has been increasing for several years. Research has found a huge gap of around 20 to 30 million skilled workers in China.
And apart from that, Chinese public opinion towards vocational education is often unfavorable. Though some regard vocational education as being on equal footing with university education , many still suspect it as a lesser form of education, and many schools do indeed have problems with their management.
China's State Council issued a decision on speeding up the development of vocational education in May, describing it as a "major strategic deployment" and vital to China's economic development. It also vows to build a "modern vocational education system" by 2020.
There are six years to go.